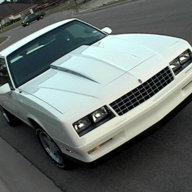 Oct 31, 2015
893
1,108
93
If you didn't touch the engine mounts, and just removed the crossmember and rear trans mount, there's no possible way that I'm aware of that you could end up with the engine being in a different position that it was before you remove the crossmember and trans. Something else is going on and I'm at a loss.

I do recall these cars did have mount/brackets for the rear of the catalytic converters that was about 1/8" - 3/16" thick and went between the trans mount and the trans case. Did you have that before and possibly forget to put it back?
I took that Cat bracket off mine when I installed the G Force Crossmember, with no problems of alignment/gap between the fan and the radiator shroud. Given the information provided there is no way that this misalignment can happen. We are missing something here. I bet he removed the lower pad of the engine mount and put the new one in the wrong frame holes.