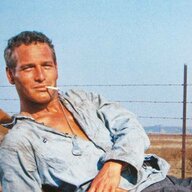 Nov 4, 2012
2,696
2,180
113
Got over to the machine shop this morning to drop off the balancer and got an update. Both sets of heads have been baked and cleaned. The 76 heads are a little nicer than the 72 heads so those are what I'm going with. The valves are all pretty lousy, stems are scored and the ones from the 76 had rust on the faces so they are gonna get replaced. Going to go with stainless steel, swirl polished, chrome stemmed, hardened tipped valves from Liberty Performance Components. The heads are also going to get new hardened seats and spiral reamed guides. The bowls will be blended, and the valve spring seats will be machined to uniform height and spring seat locators will be installed. Obviously gonna mill the heads, probably somewhere between .010" and .030", mill the head to exhaust manifold surface to true it. Then they will get new heavier springs matched to the cam.
My timing set came in, it's a billet double roller unit with 9 way keyway from iwis. The crankshaft is done and in the mail, it should be back any day. There have been some delays on the pistons but Bob talked to Autotec and they said I should have them by the end of the month.
Edit: Also got my new rear package tray in as well as the sail panel inserts I got from Brian Suter. Still have to put the back seat back in.
Last edited:
4