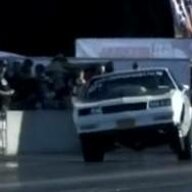 Goat Herder
Supporting Member
I almost hate to ask but what is the ignition timing myth you mentioned?
Ignition timing is the 'never mentioned' piece of thermostat and cooling temp discussions.
Retarded timing for extended cruising during high vacuum condition (light throttle highway speeds) will add 10-15 degrees to the coolant temp.
I'm sure you've seen, read or experienced 1st hand coolant temps that climb when cruising. The usual suspects are air flow, fan shrouds, t-stats, etc. Rarely do you hear someone try adding 5 degrees to the vacuum advance and seeing what happens.
Of course, poor air flow plays a giant role, but it's rarely the sole contributor. Same goes for timing at idle. Ported vacuum being used for the distributor means the timing is as low as possible while idling. Increase the timing 10-15 degrees at idle, then adjust the idle back to 750-900 and see what it does to the coolant temp.
You never have to be scared to ask - I could always be wrong lol. I've derived a lot of my advice from a couple of summers of driving something for a 60 mile commute every day. I changed timing , jets, power valves, air bleeds every tank of gas and recorded all of it. Coolant temps are a side effect of a good tune which achieves good fuel economy.
I'll end with I hate Holley carbs , the vehicle I did this with had an 8007 vac secondary Holley and HEI. It was a learning experience with an underpowered heavy vehicle. It's a lot easier with a turbo and EFI lol.