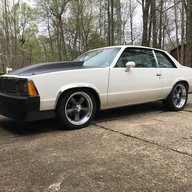 Royal Smart Person
Thread starter
I removed the front sway bar (23 pounds) and cranked the rebound all the way down yesterday now the left front end comes way up even though it still spins. I'll have to install one of my airbags in the right rear. I have 30x9 Goodyear slicks to try next time. 30" slicks and 2.94 gears and a 2500 converter just sounds hilarious. I also have everything to move the battery to the trunk.

I talked to the track owner and there will be Test and Tune until weather won't permit any longer so I'll get another shot at it.

I will not be happy until it hits 97.5mph with this combination and without any more weight removal. I truly believe that I spun that much away Saturday. We shall see.

BTW, I got 14mpg round trip including the strip passes. Not too bad.