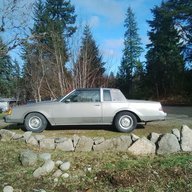 Greasemonkey
Supporting Member
I used Moog 5659s with a coil cut out in my old Buick:

| | |
| --- | --- |
| Bar Diameter - Inches | 0.50 |
| End Type 1 | Square |
| End Type 2 | Pigtail |
| Free Height - Inches | 13.68 |
| ID - Inches | 4.30 |
| Installation Height - Inches | 10.00 |
| Load - lbs | 576.00 |
| Spring Rate - lbs per inch | 162.00 |
| Spring Type | Constant Rate |

With a full coil cut out the rate jumps north of 180lb/in if I recall correctly.

View attachment 166400
Hi Mike. Nice buick! Would you happen to know how high off the road your front fenderlips are? Mine are at 25" sitting on 235/60r15s. I think i took 180 degrees out of each 5660(it just seems familiar). Ive been super busy to remember and much of my notes were in a calander that is resting in the same bin as a lot of the passenger side carpet.
So, not imperative to know right away, yet if those prius front springs compress to the same squish height as say a 5401 or a 360deg removed 5659, then the only other factor would be like say a guy wanted to get some airbags like PontiacGP runs to make up for tools, luggage n climbing belts. 5659 and 80670 would require the same style locator a 3rd gen fbody runs... yes?... no?
Thanks in advance, r.