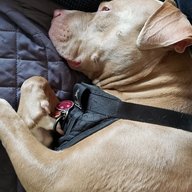 Royal Smart Person
Supporting Member
My neighbour has been running his 427 @ 12.5 with no issues on pump gas (94 octane) . I want to avoid new heads as those AFR heads were big money and they have less than 1000kms on them. I would rather sell the pistons and get new pistons at that point.

What would cause the detonation? just the heads further from the deck?
Too much quench will cause detonation. Your neighbor has to have a very high duration cam that bleeds off a lot of cylinder pressure at lower to mid rpms. Wouldn't be streetable to me anyway
I'd get different pistons if you need to keep the heads.