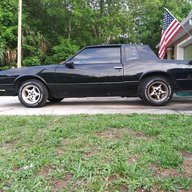 dark_finish13
Not-quite-so-new-guy
Hey there everyone, been busy diagnosing, one after another issue. But I put my foot down and decided to just pull my whole engine and transmission tear it all down, clean it up and go from there. What's the hurt?

So play quick catch up... Bought this 88 Monte Carlo SS for $650 no keys clean title. Didn't know anything about it.

Things I've changed/replaced

Ignition cylinder (key ignition)
Door locks, starter, mechanical fuel pump, transmission, new carb gasket, fuel filter

I replaced trans by myself tough job but used this forums guidance, it leaks but found it was backed up from pulling the radiator it was gross...only because I'm pulling engine now. All that is broken, I'm just making a list.

I'm battling a pretty big enemy as I've never done this before. Not to mention the interior is pretty roached too not terrible project I just want to get this thing running.
Going out and purchasing some equipment air compressor, cherry picker, sander/grinder, solvent tank for parts washing the whole bang. I'm only into the car INCLUDING the car around $2500 tools, fuel, hoses, gloves all that Im doing good i think.