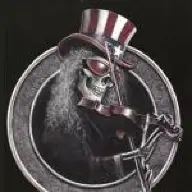 Gonzo1970
G-Body Guru
Supporting Member
Welp, the proverbial sh*t hit the fan and I was down for a Week. Felt Crappy..
Thursday - Slight headache.. nothing bad, just couldn't shake it.
Friday - headache worse.. like from not eating.. ate, no help, 2 tylenol, didn't help... went to bed.
Saturday - Ok, "I'm sick". All the symptoms pointed at sinus infection.. sans one.. headache behind the eyes/temples.. scratchy throat... but the weird thing was no Snot.. my sinuses were bone dry... Ok, fine... Been here, done this, it sucks.. start taking NyQuil/DayQuil.. It didn't touch a damn thing. Hmm...
Sunday - Still no snot, sinuses are clear.. throat getting worse.. swallowing felt like it was closing my throat. Breathing okay.. but in general, Worse. Still nothing touching it. Got under 4 quilts in a heated waterbed.. Sweat it out... Temp was 100.
Monday - This isn't good. Fever. Throat worse. Nothing I take is touching this sh*t.. Call in to the Doc.. Doc calls back, and says I need to go to the ER. Now, the ER is for people in dire straights.. Not the Sniffles.. So, I push back a little, and had an appointment for a blood draw AT the hospital the next day anyway, so reluctantly, he agreed the next day if I didnt feel better.
Tuesday - Okay, this really isn't good. Do the blood draw, call the doc, leave him a message Im walking to the ER now. ER - fever is 103. Otherwise, all numbers look great.. BP, O2, TriGlides, A1C.. the Gamut of Labs came back Fantastic. My White Blood Cell count was high, but a "within normal - high" and expected with some sort of infection...
50 y/o with a 102-103-104 fever. (That should set off alarm bells for anyone medically knowledgeable - basically, Children get fevers that high - Adults don't, typically)
Tested for all kinds of crap.. nothing positive. Initial thought was Bacterial Infection in the blood. Came up nothin.. so they went down the Viral rabbit hole... nothing.. even the exotics (H1N1, West Nile, etc.) Again, Nothing.
After about 9 hours of testing, 18+ vials of blood, and my arms looking like a Pro Heroin Addict, the doc came in and said "I got nothin.. " and released me saying "well, take tylenol for the fever, and see how it goes".
That NIGHT around 7:30pm my Doc called me LIVID that they released me... I mean Seriously Pissed Off. "You have an undiagnosed infection, and they released you?" Hell, I was just happy to get out of there, honestly... I didn't think that far ahead.
Wednesday - The next morning, Im in the doc's office, more blood (hes got a lab next door - actually had to go to the back of the hand, my arms were so sore). Fever 103, BP 90/50. WTF? BP was Excellent yesterday! O2 low, Rate low.. He asked if I was feeling cold/clammy, and I was.. He said "I'm betting Rocky Mountain Spotted Fever", and put my on Doxycycline (mean stuff - they give this sh*t to people who have been exposed to Anthrax).
OK Fine, whatever doc.. Im sick, Im tired, I havent slept more than 2 hours at a time since Saturday at this point.. this is your gig, not mine.. Sounds cool tho, and I like riding my motorcycle in the Rockies, so... whatever.
Picked up the meds, went home, and of course, went to Doctor Google about it.
Come to find out a few interesting things..
1) A Bacterial Infection Test is Basically what you think... they swab your Stuff on a petrie (sp?) dish, pink in color.. you've all seen it... swab it, see if anything grows. If something grows, Identify it. (For you medical people, this is an adequate, albeit maybe not EXACT description, you get my generalizations here)
2) Rocky Mountain Spotted Fever CAN KILL an otherwise healthy person in 8-10 days (??? HOLY sh*t) - I was on Day 5. The Mid-Stage is when your circulation starts deteriorating.. (Cold, Clammy, BP Down, remember?) I had an expiration date. I might not have seen July gone untreated.
3) Rocky Mountain Spotted Fever IS a Gram-Negative Bacteria... BUT!!! It WILL NOT Grow in an Artificial Environment (like those pink petrie dishes) - it will only grow Actual Human Tissue... hence the false negative for bacterial infection at the hospital.. and that also takes time away diagnosing instead of treating, and that lends towards its higher mortality rate.
4) Rocky Mountain Spotted Fever TYPICALLY has a Rash (Spotted Rash - go figure, right?) but Not All The Time. (I had no rash)
Lessons Learned:
Just because a Gram Test (Bacterial Infection Test) shows negative, doesn't mean its NOT bacterial. They see a Gram Test come back Negative, they go down the Viral Rabbit Hole. We've all done it with Cars/Engines.. One thing says "don't go there" and you ignore that side of things - we've all done it, we're all guilty of it.
Viral Tests can Take Time. I WILL look at Any Doc and say "You do realize not all bacteria grows in an artificial environment, so don't just focus on a Virus now" from here on out.
Bacterial Infections have the same symptoms, but can have subtle differences. (No snot for me).
6 out of 10 people don't even realize they were bitten by a tick.. The tick has the bacteria as well, and it will cause their death... they die, and just fall off. You're none the wiser. I can't remember the last time I even SAW a tick, much less had one on me.
Had a heart attack 10 months ago.. Just dodged that, and just dodged RMSF.. Getting tired of this Dodging Death sh*t, but glad I seem to be good at it...
Obviously, I am no Medical Professional, and this is nothing more than my experiences and nothing more than what I personally experienced.
Simply informative...
The more you know...
-Gonz