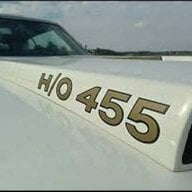 Jan 2, 2006
7,375
15,558
113
One thing that may also help, although I don't have on-hand examples to compare, would be how the hose to fitting interface was secured/crimped. There was much ado about nothing back when they first started making changeover stuff, biggest wrench in the comparisons at the time was aftermarket quality on EVERYTHING was fairly poor. But, supposedly the barrier layer was just below the surface of the hoses, and as such, couldn't be crimped the way the pure rubber stuff was.

I'd wonder if looking at that connection would be a telltale sign?
Not sure. The current aftermarket replacement for 5.0L Olds G-body hoses from Four Seasons 55479 boasts that they're made of barrier hose that can be used with either 134 or 12. There's the reduced barrier types and full barrier types, and probably sh*t in between, enough to make your head spin. GM usually used some sort of standard or classification inked on their hoses, and sometimes the sizes, even the little vacuum hoses. It would equate to an SAE standard whatever was current at the time of hose manufacture.
Hmmm. Just drug out one of the A/C Delco "NOS" hoses, 25526129. Couldn't see anything but 5/8" on the big hose and the padded insulation didn't want to move. So I left it rather than risk tearing it up. Did get it to move on the small hose. It says "Parker 7694" with 10mm hose size, and lo and behold, an "R134a" by itself, inked right on it. So the NOS hoses are barrier hoses as well. Parker Hannifan made the majority, if not all, the G-body A/C hoses best I can tell. The original production muffler stickers (most get gone over the years) show the Parker name and the part number along with manufacture date.
The original hose appears to be a Parker Parflex 80 7652, (I could only see back under the insulation to see an 8 before the "0 7652") which Parker classifies as a Hydraulic Hose, but I didn't want to tear the insulation. Honestly never paid all that much attention to the A/C hoses before.