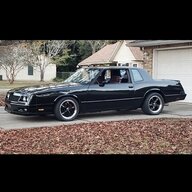 Jun 15, 2012
4,831
8,040
113
You know what's worse than the existence of this kit? The willingness of people to buy it.
You already know the type of people who buy them ugly cars.
This reminds me, i saw a white C5 w/C1 body kit on the road this morning, had no idea this even existed since im not a vette person.... this version lQQks more like that one catfish camaro's distant cousin, but with braces.
There's actually several different models of cars built from C5 Coupes and they all look like the need to be aborted.
The proper way I've seen is taking the C5 Frame with the drivetrain in it and putting a body on that. I've seen several done and they are sharp.