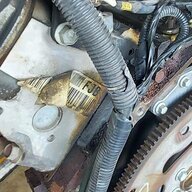 G-Body Guru
Thread starter
I have a set of l96 injectors and rails I got from the junkyard. I have an 05 6.0. I know I can buy ev6 to multec pigtails but what about the injector height and oring size. The 05 lq4 injectors are taller and the oring slightly bigger.
Lq4:top oring .537" l96 .533"
Height. 1.866" 1.815"
Both bottom orings .551"
Can I put the bigger oring on the l96 injector? Or use the gen 4 rail. It's a small difference but I'm not really trying to start an engine fire. I can't find an adapter that takes up such a small space. Any advice or help is appreciated. Everything has gone up so much (f***** terminator_x max went up like 500) I'm just trying to save money anywhere I can.