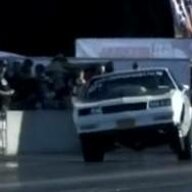 Goat Herder
Supporting Member
Dec 1, 2014
5,530
1
11,705
113
Well that confirms that my idea to beef up the shock mount plates is a good idea. I'm going to need some info on the scramble button…….
The arm brackets are 3/16 and the shock mount plate is 1/8. I'm changing them to 3/16 and going to add a little more. I broke the left side at DW '22 and made an 'in the field' repair. Both times I've broken the left side was beating on it on the street with the rebound cranked up on the shocks on not so smooth road.
The scramble button doubles as the bump. It has to be wired into the main harness (not the dash) to use the Holley designed transbrake setup. Really quite easy once you mess with it some.