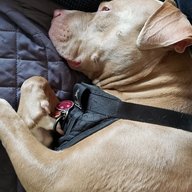 Royal Smart Person
Supporting Member
Jul 1, 2018
2,218
4,813
113
I've got the roof ready for polishing. I still see some sanding scratches using LED light. Can I use dry guide coat so i can be sure I have gotten all these random scratches out? Very hard to find them all and I know I'll miss many. Any tips appreciated.
BTW I went from 320,400,600,1000,1500 and last step is 3000. But I know I have to go backwards to fix what I missed.

I have about 20 hours on the roof and, to me, this is the most technical aspect of the entire bodywork/paint process. Lots to learn and trying to correct mistakes.