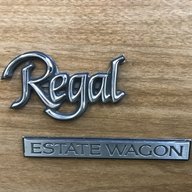 Royal Smart Person
Supporting Member
So my G-body tale is this. My mom bought an '83 Regal wagon new in Northern California. It was driven and used as her daily driver until 1990, when she bought a Century sedan. At the time, my father was doing a lot of business in Knoxville, Tennessee as a developer. We had a townhouse back there that we kept it in, so it's been garage-kept for nearly its entire 34-year life.

At any rate, once my mom got her Century, it was decided we'd drive the Regal across the country to Tennessee to keep as a driver around the area when we were in town. My mom's two sisters flew out to California, and the four of us hit the road on the way to East Tennessee. I was 14 at the time. It was quite the adventure. The wagon overheated frequently (it was in the middle of the summer, going through the Mojave desert, among other places). Also along the way, we had a flat tire. When the wagon finally got all the way back there, my dad started it up one night, and it sounded like a diesel (it was a 3.8 2-bbl). Turns out the oil pump went kablooey and spilled its guts into the pan. The original engine was toast at around 45,000 miles. The rebuilt engine has so far survived, but no more cross-country road trips, that's for sure.

After all these years, we've decided to rent out the townhouse, which has been empty for the past five years. My dad passed away three years ago, and my mom has decided to sell his car in California to make way for the wagon, on my request. I currently live in a townhouse in SoCal, so storage is an issue at the moment.

I hope to share photos of it soon. It was in a minor accident, and it's missing some molding on the driver's side front fender, but is otherwise original, clean and mostly rust-free. Interior has a few missing pieces, but is in great shape for nearly 35 years old. I know a lot of the rubber, hoses and bushings on it will probably need to be replaced, as it's sat for a while now. As I've noted in some other posts, ultimately, I would like to do a Grand National-style restomod on it. In the near term, my hope is to get it in reliable running condition as I put together my longer-term strategy. I'm thinking one of the first things I'll do is a throttle-body injection conversion, and possibly a rear re-gear to 3.08 or something to wake it up. I believe it currently has the impossibly tall 2.41 rear-end and THM200 3-speed.
Last edited: