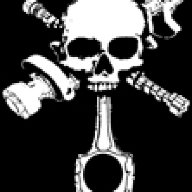 motorheadmike
Comic Book Super Hero
I like the simplicity of the centrifugal superchargers but I don't like it when the belt slips or breaks and then you have to disassemble half the front of the engine to get a new one on. Really linear power, like a naturally aspirated engine, (if you like that sort of delivery) just more of it. I love the torque surge under the curve that turbos give. I'd totally run a blower if it was a good deal though.
I am still on the original belt from when I installed the Procharger on my TBSS. 6 rib belt, 12 psi, 650+ whorespowers. Very little slip once properly adjusted. I bought the House of Boost D1SC used complete right down to the intercooler, injectors, Boost-A-Pump, and washer bottle relocation kit. Then I tossed most of it out and built my own setup with a really small pulley, wastegate, and a large front mount.
I flat out love my Procharger but paid a premium for the name. I'd look to Torqstorm for a tuner kit for about $2850 new.