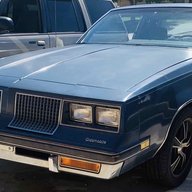 Stupidquestionspro
Master Mechanic
The 68 350 I have I've been trying forever to get tuned right.
I'm not sure what cam was just told RV cam
MSD ready to run is set with light blue and light silver spring I believe all in timing by 2800?
I tried once to tune timing by a vacuum gauge and max vacuum had initial at 30 with 21 in the distributor and 10 on the can and as insane as this sounds I still didn't hear any pinging maybe I'm deaf?
Currently It is set to 15 initial and 23 mechanical stop bushing with a 10 non adjustable vacuum advance that came with it.
I just reset the idle/air with the vacuum gauge and had mainly steady 19 though it took quite a few more screws out then expected I'm estimating like 3-4 on each side. The exhaust smells slightly of gas and while it stumbles slight with the vacuum unplugged it doesn't die. The video is of these settings and the idle in the video is with the idle set screw completely loose. I wish I could get the idle lower but I'm not sure why I can't.
I run shell 89 gas
Wish I knew the compression but no idea
Video starts in gear and towards the end I put it in park.