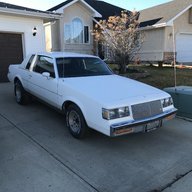 Oct 24, 2017
3,359
12,816
113
Small update on the engine/transmission tear-down:

a little scrap metal cut to fit, welded and a can of paint, and the engine-stand serves as a transmission-stand

View attachment 208170 View attachment 208171

What wasn't so fun, is what I discovered while further disassembling and inspecting the TH400 (build by B&M).

The rear bushing ate some metal, but thank god, the rear output shaft isn't damaged in any way. It seems that this got assembled in a dirty place with no respect for quality.

View attachment 208172 View attachment 208173 View attachment 208174

And to ice the cake, there was a seal ring missing inside the main assembly.

View attachment 208175

I will post updates as soon as I received the parts for the rebuild... One thing is for sure, B&M will never get any money from me ever again...
Some shift mods and dual feed kits required the removal of a seal ring. So, it might not be wrong.