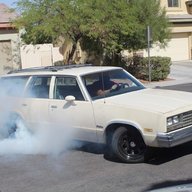 @BurnoutsandRotorblades
Greasemonkey
I found a couple interesting threads on this subject. The first one has a post about half way down the first page by a member named Scorpion. He shows and details how he would modify the stop on the shift gate to allow for more movement.

The other day the spring load on my column shifter handle is flapping in the wind any idea's on how to fix this i have tilt steering. Thanks Roy
www.gmsquarebody.com
I found this option in another forum thread explaining how he made up a whole new shift rod. but needed to fix the shift gate.
"I went and bought a piece of 5/16-24 threaded rod and utilized a bunch of pieces from the lokar kit. I made three bends in the threaded rod, one to get past the firewall and two others to get over to the transmission. I now am able to get all gears P,R,N,D,3,2,1. All of them click in nicely, except first gear which I'm barely reaching. I think with a stiffer rod I can get first to click in better. They all line up on the gear indicator as well, and the steering column locks into park. I would not have gotten first if I hadn't changed out the shift gate inside the steering column."

Ill update the group once I figure out what my next step is.
www.gmsquarebody.com
The best Pictures are from this thread about lengthening the shift rod.
Does it shift through all the gears with out any bind or dident you make it that far yet So, the answer to the $64,000 question is: sort of. It ends up being at the very end of the adjustment. Then, I broke the bolt off. So, while it was out, my Steam fitter neighbor was over, and just to give...

gbodyforum.com
The question I have left over is; what about extending the part of the shift arm that comes out of the bottom of the column? It would make the need for more travel in the column a moot point and force the rod to move further, possibly seating the transmission solidly into the first gear transmission detent. Thoughts?