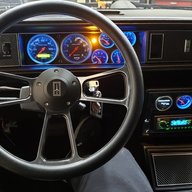 G body LS mafia
Supporting Member
Thanks! Mine was pretty slow going as it seems everything snowballs the deeper you go. I originally just wanted to do a LSX swap and discovered my floor-pans were gone, which led to a full frame-off. It was a big project but, it's a lot of fun knowing every nut and bolt of your car.
Hah! My body off 87 cutlass started in a similar manner 5+ years ago. Took it to my brother n laws to do suspension upgrades, we pulled the vinyl to reveal some cancer! It already had a rust hole in the pass 1/4. Within a month afterwards the car was in a thousand pieces lol!!!! Since then i could tell ya every nut/bolt/washer etc. on that dang thing! Hopefully the paint will be finished in a couple months and we can start putting it back together.
Not to mention the twin turbo LM7 going in to replace the EFI 355 that died a few years back hehe!