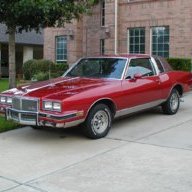 Texas82GP
Geezer
Supporting Member
one question, is the accumulator the same as a dryer on the G body..?
Yes, two words for "the same" part. Technically a dryer is on the high side by the condenser. An accumulator is on the low side by the evaporator. An accumulator has a desiccant filter in it, so it does the job of a dryer, but also serves as a reservoir of refrigerant and oil, which is why an accumulator is typically larger than a dryer.
Gonz, since you are going to replace the compressor, here's what I would do if it were my car:
1. Flush the system - this will clean any dirt or contamination out of the condenser, evaporator, liquid line and hose assembly. This is a good idea since who knows how good a job they did flushing out the old R-12 mineral oil. R-12 systems require mineral oil while R-134A systems require PAG or Ester oils. Since it is impossible to completely flush the filter in the accumulator, I would replace it.
2. Replace the compressor, the orifice tube and the accumulator. I would us AC Delco parts (I have all new Delco parts for my car).
3. Consider replacing the condenser with a new replacement. The new replacement will be a parallel flow design instead of the old serpentine design and will work much more efficiently and will help the performance of the R-134A refrigerant. Also inspect the condition of the hose assembly as now would be a good time to replace it.
4. Replace every o-ring in the system
5. If you don't have the tools (vacuum pump, flushing rig, manifold gauges) and the experience, have this professionally done.
If you do it this way, the system will be tight, dry and contaminate free. It will have the right amount of the right oil in it and will have the right amount of refrigerant in it. You will have the best chance at getting the optimum performance from the system. Can you cut some corners and get good results? Sure, but maybe not. A/C work can be unforgiving. If you don't want to be disappointed in the performance and you want it to have some longevity, I say do it once and do it right.