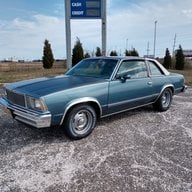 Sep 1, 2018
1,043
1,180
113
So, I am in the process of swapping in a new Tremec TKX from my Super T10 4 speed. I previously ran the G Force cross member. I was not entirely happy with it because it constantly made contact with my driver side floor no matter what I did.
I just got a Jeg's cross member and tried that yesterday and it is too narrow.....seems they cut the tubing too short on one side so that even if I opened the bolt holes up they would end up going out of the end of the bracket welded to the cross member.
So my next 2 choices are either the cross member from Silver Sport Transmissions which is pricey or the tubular one offered by Evolution Racecraft.
Does anyone have any experience with either of these?
Are there any other bolt on aftermarket choices for a small block Chevy A/G body?