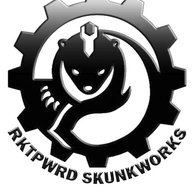 Feb 2, 2015
1,932
6,116
113
Hey guys, what's up.

I'll get into more particulars of my issue with this QuadraJet later in this thread, but for right now, a simple question:

Is it possible to have a QuadraJet run on the primary circuit rather than the idle circuit?

My car WILL NOT idle on its own after starting it, even if it's already up to operating temperature. It just stalls. If I very carefully feather the gas and hold the rpms around 800-1000 where it should idle, the engine sounds normal and you can hear the lope of the cam as you should.
But as soon as I take my foot off the gas it just stalls.

The only way I can get it to stay running on its own is if I rev it to 3500-4000 rpm, then it'll stay running but it's pig rich and doesn't sound like it should. Revving it to anything less than these rpms won't keep it running.

Once it does stay running this way, I can drive the car around for hours through start and stop traffic, and it pulls good throughout the rpm range but as soon as I shut it off and go to restart it the cycle starts all over again.
It's almost as if when I rev it into this rpm range, it fools the carb into running on the primary circuit rather than the idle circuit. Is this possible?

I've gone through countless hours and trouble shooting only to find nothing out of the ordinary. It's recently been rebuilt, no vacuum leaks, throttle shafts have been bushed, tinkering with the timing and vacuum advance pulloff locations has no effect on the problem. It seems to be an issue with the idle circuit, but unable to determine what. The idle mixture screws are turned out the recommended 3-3 1/2 turns.

The carb was thoroughly cleaned and air blown through all the passages when it was rebuilt, so dirt or contamination is highly unlikely. And yes, I have already bought the Doug Roe QuadraJet book. I see no mention of the problem I'm experiencing in it.

Please help before another QuadraJet finds its way onto the scrap heap. I'm at my wits end with it.