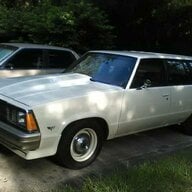 Rocket Powered Basset Hound
Crazy busy lately. No internet at home for a week and a half. Thinking about semi-retiring next year. How are things?
Greg,
I'm glad to hear that you're doing okay, just busy. I get a little concerned when someone goes missing for awhile. It still would have been nice to see your El Camino up there. Nothing wrong with semi-retiring. Good to hear from you. All in all, I'm doing well. Once again, we dodged the bullet with the storm. A lot of rain, though.