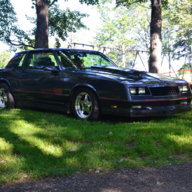 GuysMonteSS
Royal Smart Person
I'm on days off and went into Lloydminster Alberta yesterday.
I had lunch with Stan The Safety Man then I went shopping for new footwear.
My last stop was Walmart,and I usually go to the automotive Dept and see what they have for oils on sale.
Well,there was my Valvoline Conventional Classic 10W 30 on sale at almost half price.
I went to customer Service to see if I could pay for it there and have it picked up at home,sort of a store to store transfer,but they don't do that.
But the nice lady suggested going online to Walmart.ca,and she actually brought it up on her phone and showed me.
So I got on my phone and ordered 5 cases of 3 jugs @ 5 litres each,for a grand total of 75 litres,or almost 80 US quarts.
That should last me for a while !!
Last year it was hard to find this exact oil,and around where I live,Walmart is the only place that carries it.
https://www.walmart.ca/en/ip/valvoline-daily-protection-conventional-10w30-motor-oil-5l-case-pack/6000198866658
Guy