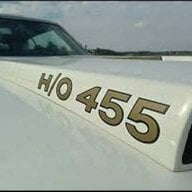 Jan 2, 2006
7,373
15,555
113
88hurstolds
post about his new gas tank install got me thinking about this.
I forgive him for using the "wrong" front bolts per the parts information. He'll be docked 0.01 points.
Just kidding.
The callout is for HFH M10 x 1.5 x 45.
The 11515768 bolt is 5 mm shorter at 40 mm and will definitely work, and they are GM, so nobody would ever notice, especially where it is located. The original 45mm bolt used at the time of production was oiled phosphate, and also had a type BP (unthreaded point) on the end. But, as GMSPO goes, they changed up part numbers rapidly and some bolts were substituted over a dozen times since the cars were built.
For those interested, the part numbers for the straps, sender, bolts/nuts are as follows (latest numbers I got). Some can still be had, some are discontinued or superseded. I didn't do any cross checking to see if they would interchange with any other G-body because I was too lazy, but I'm thinking at least all the tanks are pretty much different part numbers due to things such as EFI vs carb tanks would be, and some different necks, etc. So do your due diligence. Also, you have to watch for bad part numbers. For example, the Pontiac G-body front strap bolt calls for a 15mm long M8 x 1.25 bolt, but uses the same M10 x 1.5 nut as the rest do. That ain't going to work. Weird.
But here they are for 81-88 Cutlass gas:
Tank - 22510103
Tank cap - 22525300
Straps (2) - 557935
Sender (comes as a "kit" with o-ring, cam, and sock- fully assembled) - 25001612 (2-line), 25001613 (3-line)
Front strap bolts (2) - 11515769 (88hurstolds used 1151768 bolts, which are 40mm long and will work. The 5769 bolts are what is called out in the parts info, 45mm long. A tad easier to start threading.)
Front strap nuts (2) - 22531616
Rear strap bolts (2) - 11508301
Rear strap bolt nuts (2) - 11500760
Just in case you need a cam/oring because the dillhole with the NOS sender you bought opened the box and lost them:
Cam - 25124032
O-ring - 22515965