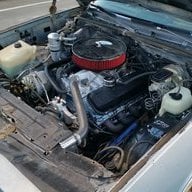 454GrandPrix
Master Mechanic
I thought I had this base covered. This morning, I learned otherwise.
Last Thursday, I spent all afternoon grinding my car and denting my (used, unknown brand, 1 3/4") header tubes in order to make them fit onto my engine. The driver's side now clears by a mile; the passenger side is considerably tighter but only makes actual contact in the allowable direction (away from engine rock) so I thought I'd be okay. Today I went to install the gaskets and torque them onto the engine, only to learn the passenger side flat-out refuses to play nice. I have already beat the hell out of one or two down tubes, plus I have cut/ground off all the metal I dare from my control arm mount... and it's still a no-go. I need to find another way.
Back to the drawing board, I began searching in this forum (and elsewhere). Some guys say to get the Hooker 2241s. I don't want those, for two main reasons: (1) they use slip tubes, and (2) they are very pricey. I also don't like that they use 2" primary tubes, which is overkill and a poor choice for my application.
I did also see numerous mentions of Hooker 2455s. I like that so many guys say they fit with little (or no) modification required--and the $199 price is certainly attractive--but I am turned off by the same 2" primary tubes as the 2241s. If I could find these headers with 1 3/4 tubes, I'd be all over it.
Considering all that, does anyone have any recommendations for me?