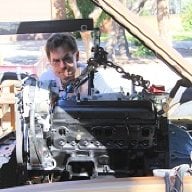 Jul 19, 2009
5,451
6,453
113
I've recommended Jeg's G-body dual exhaust conversion kits in the past. I noticed Summit now sells a nearly-identical kit. My kit is still in the box after a number of years, but installation is imminent. I looked at the kit instructions for both Jeg's and Summit and discovered that both kits have Monte-Carlo-style exits under the rear bumper. I am unsure if this design will work on my wagon due to the tire well and fuel tank.

I was searching for kits for another project, and tracked down Hearthtrob exhaust in Minnesota. Mike exchanged a few emails with me and I learned that Hearthrob designed the dual kit. He claims they used to make the Jeg's kit, then Jeg's reverse-engineered the system and it is now made in the Far East. However, Heartthrob still makes the Summit kit. Full mandrel bends. Unsure of fit-up, but I recommend those considering the conversion consider Made in the USA if they have the choice...

Finally, I asked Mike if he can make mandrel-bent behind-the-wheel (stock) tailpipes to retrofit the Jeg's kit I already have. I want the slash cut exhaust tips with one little flat on the top, just like the General made thirty years ago. He says he can make anything if I am willing to prototype them and send them to him to model and program into his benders. He says 2-piece tailpipes will be cheaper to ship, so I will have to see where the bend goes, and whether I can cut the Jeg's pipe and just weld a different extension on it. Maybe Summit would then offer both versions for sale.

So, I would be interested to now if anyone else would be interested in such a pair of pipes. Should fit all G-bodies, sedan, coupe, wagon, and Elky.