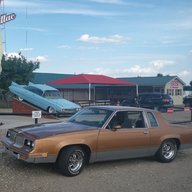 bob_t442
Not-quite-so-new-guy
Hi All!

I joined the forum ages ago and got sidetracked by other stuff in life.

This week I made my first post in trying to decipher '87 Cutlass Supreme Brougham interior colors, and successfully go to the bottom of all the codes used, and which code was for the tannish gold interior.

Anyway...I got my start with Oldsmobiles when my late aunt gave me her comatose '64 Cutlass convertible in January 1974. My father and i resurrected it from a cracked block thanks to my mechanically inept uncle leaving pure water in the cooling system. Once running, I did gthe body work needed, and we painted it Ontario Orange ('72 Corvette color), and later converted it from Jetaway 2-speed automatic to a 4-speed manual.

I upgraded my steed to a '71 4-4-2 4-speed convertible, which I added the W-25 OAI option, power front disc brakes, power windows, tilt column, custom sport steering wheel, and power trunk release. Unfortunately money ran tight early in my marriage and I sold it (should have dumped the wife instead). During ownership of the '71, I had a string of winter cars, starting with a '69 F-85 sedan that I turned into a fake W-31, then a '71 Cutlass coupe, and finally a '72 Cutlass Supreme coupe that I kept as a permanent second car, swapping with the '71 since i was renting a garage. The '72 I did my first solo paint job, giving it a coat of Viking Blue with White W-30-style stripes after finding another OAI hood for it.

I bought an '88 Cutlass Supreme Classic Brougham new in mid-'88. When it had 166,000 miles on it, I bought the '85 4-4-2 from the original owner in New Jersey as a back-up car since I didn't know how long the '88 would survive. It lasted fully 280,500 miles retiring itself on schedule as I retired from my working career in July 2012.

All through this I've been a member of the Olds Club of America (since 1977) and was the membership secretary of the Olds Performance Chapter for 20 years till is fizzled out.

Thanks again for the warm welcome.