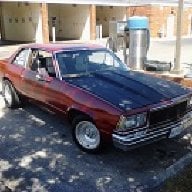 jacobdavis1979
G-Body Guru
The truck pan is 8" from where it bolts to the block to the sump. How deep is the muscle car pan or the "Hummer" pan at the sump?
If the snow clears up this weekend il go measure them again to be sure.
The sump on the muscle car pan is 7.5 inch
The sump on the stock truck pan is 8.35 inch and both are my personal measurements i had wrote down.
The muscle car pan right now as it sits in my car hangs about a 1 inch to 1.5 inch below my cross member.
I also have buddys that have used the Holley and CTSV pan and i have theirs wrote down
Holley is 5.75 to 6 he said that he laid under the car and did that so that's why its not accurate LOL
CTSV is 5.5 inch
I hope that helps you choose a pan.