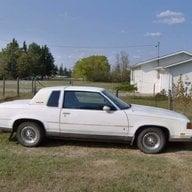 Oct 14, 2008
8,698
7,544
113
AWESOME!!!! What engine option does it have? Is your daughter allowed to drive it?
Just the 305 hp V6, still plenty fast and nearly 32 mpg imperial on it's first trip. Hell, I will be lucky if I can drive it
, it is my wife's car. There will be a big lecture before any of our girls get behind the wheel. It is just a gorgeous car to drive. It makes our old one look like an unoptioned POS, so many creature comforts and a kick *ss stereo.