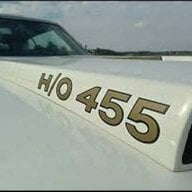 Jan 2, 2006
7,708
16,150
113
Rktpwrd has seen this, but unfortunately he's still at work, just taking a quick smoke break and would have to search for it on Olds Cool's thread just the same as y'all. I don't recall if I took pictures of that process TBH.

I will ask this tho, are you planning on attaching the clips to sheet metal screws, or the proper studs you weld on with a stud gun? Either way, I believe they're just centered in the channel. If you're attaching them with a stud gun, you'll be limited by the nose of the gun as to how close to center you can get, which is why I'm asking.
Knowing you, if they didn't look just right, you'd cut the lip off the window seal seat, re-attach the studs where you wanted, then re-weld the window seat lip back in place. You know, the hard way.