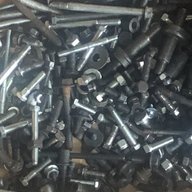 Greasemonkey
Thread starter
Welcome to a great Site ,
Sweet looking car , can I be the first to ask how do you eat up engines with so low mileage ? Or is it all a quarter mile at a time ?
the inlays look like something that a guy who was on the Turbo Buick forum years ago sold..........along with engraved shift handles and stuff..............now to find this web site ( if he's still in business ) He had a decent grouping of parts.
Haha just wanting to go faster and learning as I went. And I basically used the 307 as a learning tool. I figured if my rebuild went wrong then I didn't waste too much money. Had 9:1 compression and mild cam. Small ports even on the stock 5A heads were restrictive. Then I came across the Olds 350 for free. It became hard to find a machine shop who knew the nuances of Rocket V8s, at least by me. Used heads from a different motor. Olds 5 IIRC. Mixed and matched and ran okay. Have some valve train geometry problems.
I think part of the problem too is that I like working on the car as much as I like driving it. The minute I'm done I think what can I do next...