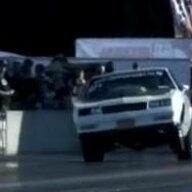 Goat Herder
Supporting Member
I searched for a product review thread and came up with nothing. I found this thread started by
blk7gxn
:
https://gbodyforum.com/threads/why-isnt-there-a-review-section.83825/
and I get it, I guess.
I want to offer a review of an an amazing part I bought over the winter and it has worked beyond my expectations. A TruCool 40K trans cooler.
When an auxiliary transmission oil cooler is required for your vehicle, Tru-Cool Max delivers optimal protection with double the cooling performance of our other products. Maintain lower temperatures in your transmission and lubricant with Tru-Cool and extend the life of the vehicle you depend on.
I was directed to it by my converter guy so I tried one. I found one on ebay for $100 or so. And after a couple of years of battling trans temps being in the 180-190 range cruising and 200-205 pulling the trailer last year, I'm done with that now. I bought the 40K LPD47391. It is an easy fit in front of the radiator. Maybe if I had AC it might be tight, but it's between the rad and 4" intercooler and IT'S AMAZING! I can't get my trans over 165 now, except at the track. Previously I would make 50 degrees per run, but now only 35. The most I've seen at the track ion a full 1/4 mile pass is 185. Another upside is that it cools back down way quicker than previously. And I don't run any fans on it other than the trans fans. I'd recommend the 32K or 40K to anyone with a minorly slippery converter.
p.s. If anyone else reviews a different product here, then I'll change the name of thread to 'Product Review'. And I thought it would be good if we tried to keep it to positive reviews rather than dumping on a product or vendor.