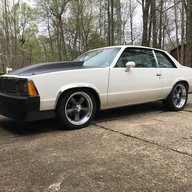 Royal Smart Person
Supporting Member
In the spirit of antique vehicles, let's talk about 1995 and older cars and trucks only. Who do you know that drives a 25 year old V8 car as a daily driver (or at least 6000 miles per year)? TPI and 5.0 Fords changed the rules in the mid 1980s about how quick a car could be and still be driven every day. I know that tons of new stuff is faster and more drivable, so let's don't discuss that stuff. And I know that the Hot Rod Drag Week is full of so called 'street cars' that are specialty build for that once a year performance, impressive but not daily driven.

Just for discussion sake, answer one or all of the following questions about 25 year old actual street cars. "I have one that 'could be driven daily if I wanted to'." is OK but I'd rather keep it to actual driven often cars. Fuel mileage is of little concern. This is about the will to drive, not fuel efficiency.

1) Who do you know that daily drives a 25 year old V8 (Turbo Buicks and Dodges count too)?
2) For those in the northern half of the US, is the car driven in the winter? Does it have a good heater/defroster? Air conditioner?
3) Wipers? Full interior? Functioning windows? Passes required state inspection?
4) Fuel injected or carbureted? Turbo or nitrous? Old school engine or LS/LT/late Hemi/Modular?
5) Can the car be driven long range at interstate speeds? What transmission and rear gears?
6) Is it able to be driven at any time or if it rains does the owner break out in hives?
7) How fast is the car at the strip? 1/8 or 1/4 mile?
8) Any 7 second 1/8, or 11 second 1/4 mile daily drivers?
9) Any 6 second 1/8, or 10 second 1/4 mile daily drivers? Come on now...……...
10) Any 5 second 1/8, or 8 to 9 second 1/4 mile daily drivers? Seriously, surely somebody knows a person that is that dedicated.

Anyway,

Just a friendly conversation about real (actually driven) cars...………….think about it, you can put a late model turbo engine LS in a 1995 and older car, but that doesn't mean that you will want to drive that old school suspension with aged amenities every day. Does it? Let's hear some stories.