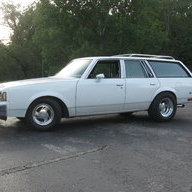 Nov 24, 2016
725
1,901
93
Spied this old girl sitting on the street outside the Oldsmobile show we were at yesterday, and of course had to check it out.

Literally looked like it just got dragged out of a farmer's field and driven home. Although I'm sure that wasn't the case. Cool AF though, even the wood framework inside the cab has survived.

View attachment 202924 View attachment 202926 View attachment 202927 View attachment 202928

Couldn't tell what it had under the hood, but it would be extra bonus points if it was still a flathead.
Looking at the rest of it, my bet would be the Flathead was still accounted for. That complete and solid and STEEL body is worth a medium-sized FORTUNE.