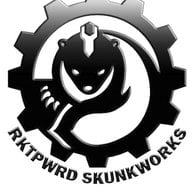 Builder of Cool Shjt
Supporting Member
Feb 2, 2015
4,061
23,010
113
Hi all, welcome to the build thread of my Olds Cutlass.
I'll start with a brief history, then break down the build as done so far into sections:
Engine, Transmission, Frame, Suspension, etc.
So, here goes...
This is "The Juggernaut"
As defined by Wikipedia:
"A literal or metaphorical force or object regarded as unstoppable, that will crush all in its path"
It was thusly named after a difficult couple of years in my life during which I went thru a divorce, a grandparents death, a dogs' death, and several career altering layoffs. All during this time tho, it seemed the one thing that never changed was the progress on the car. It seemed as if nothing could stop or slow it down, hence "The Juggernaut" seemed a fitting name.
She is a 1980 Olds Cutlass Calais, and I am the third owner. She was purchased in 1994 as a new home for the 455 Olds big block I was building, a remainder from my first car. Shortly after buying the car, I swapped the egg crate grilles and header panel of the Calais for the Cutlass Supreme header and grilles. I just liked the Supreme header a bit better and thought it made the car look a bit more aggressive.
As she looked shortly after the header panel swap, and an el cheapo lowering job on the front (NEVER heat your springs guys!)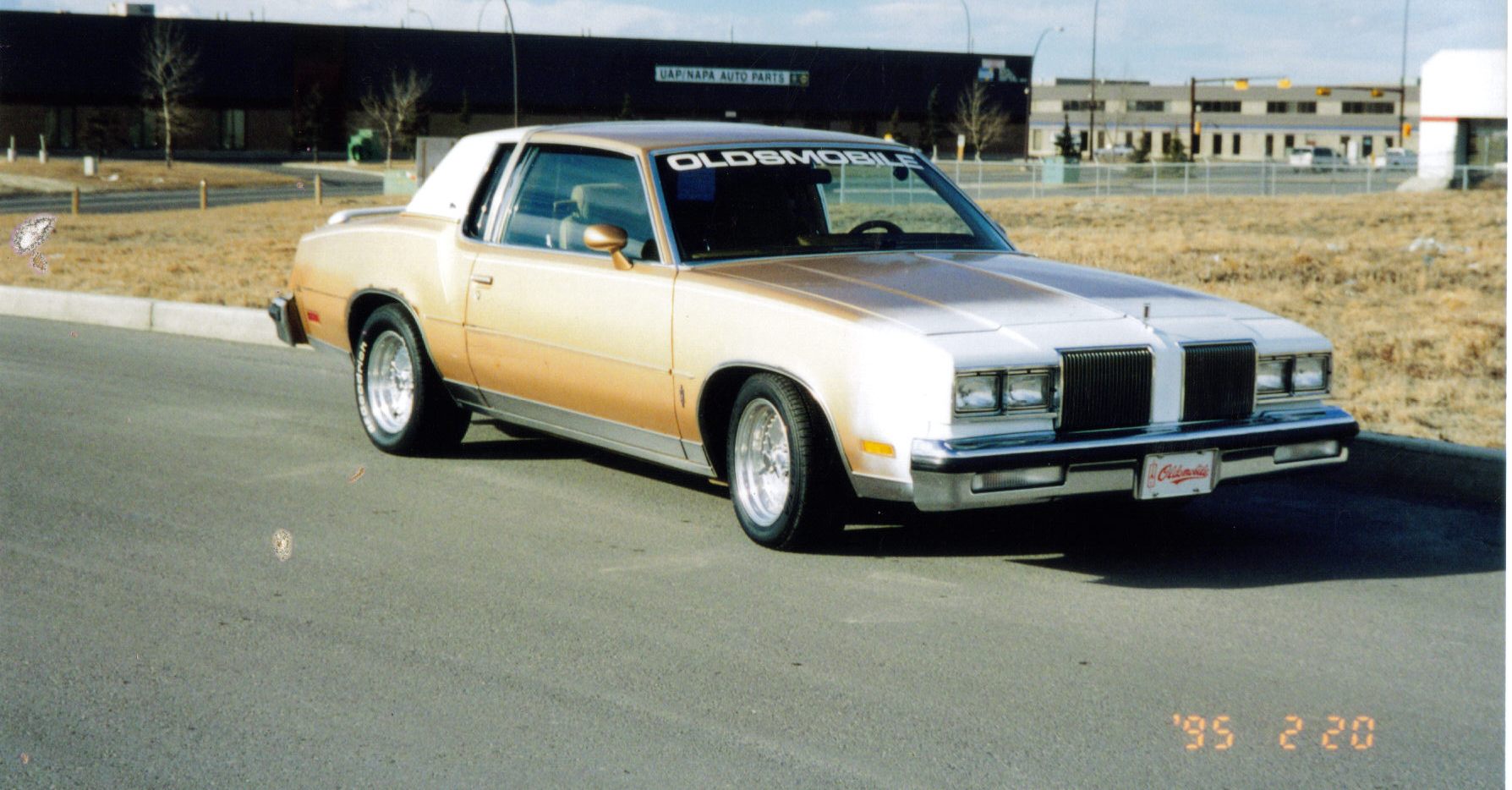 The car served as a daily driver for a time, even acting as my delivery vehicle when I did a stint delivering mail as an independent contractor for Canada Post!
After a while, it was time to get serious, and the car was parked to do the engine swap. It was supposed to be a straightforward procedure: Remove the front clip, yank the 305 and trans, blast and paint the firewall and the insides of the fenders for the color change, rebuild the front suspension, and drop in the new 455. Boy, how wrong I was about how things were to go...
Decent progress was made until one night with a little mishap involving a battery charger and a gasoline leak... Long story short, some months after the fire damage to the inside of the garage was repaired and I was able to get the car back, I now had a whole new list of things to work on and repair. Upon removing the swollen fire damaged gas tank, the dreaded G Body framerail rot was discovered, and so begun a frame off restoration.
Here's the fire damaged passenger side quarter panel.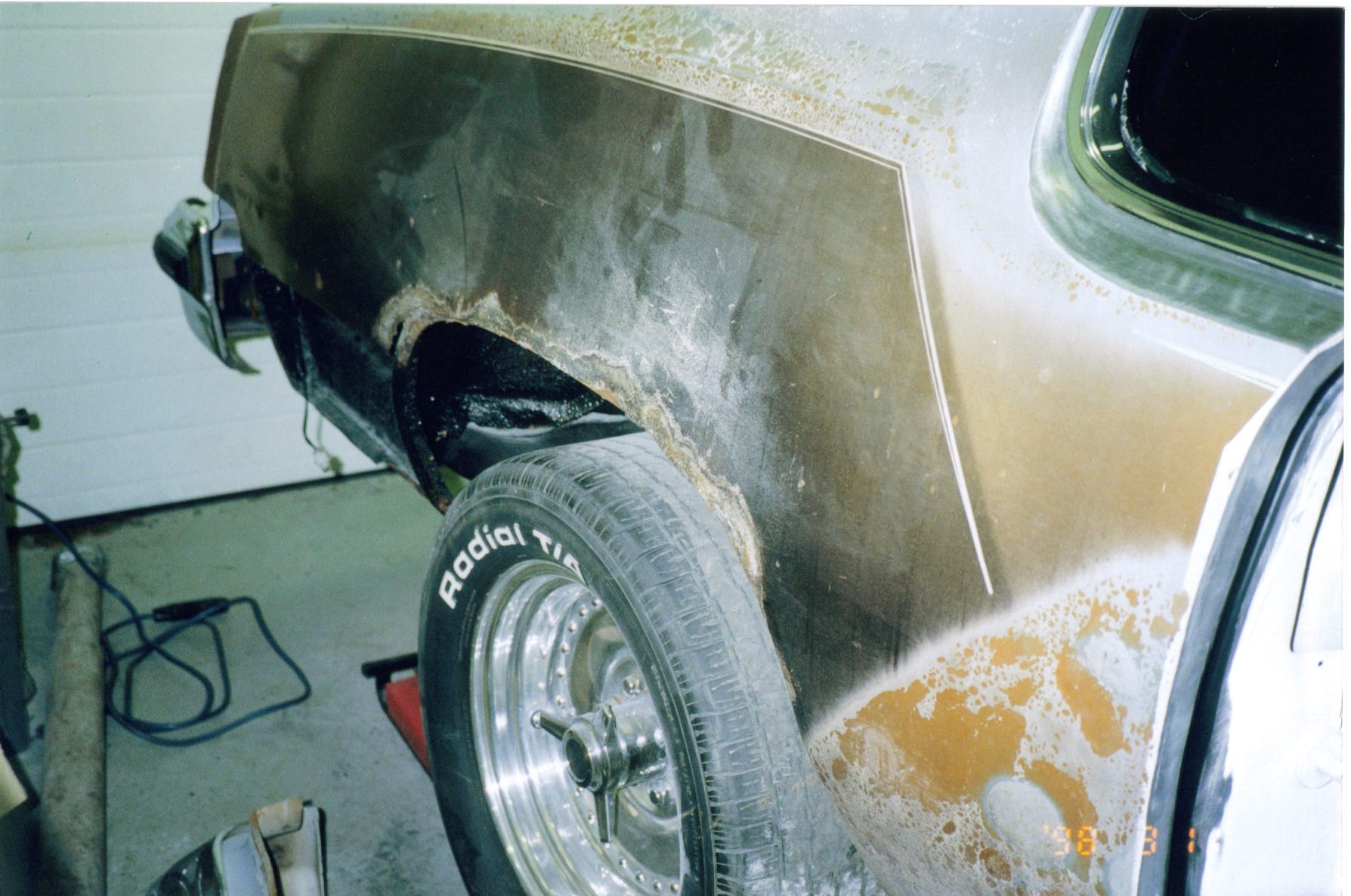 The first entire frame off restoration was done in a one car garage. No easy feat, I assure you! I won't bore you with the details of that, besides, most of the pics are on old school film, and not scanned into the computer yet.
Once the first restoration of the car was done, I got it appraised, insured, and enjoyed the hell out of it! I took it to car shows, raced it, (at the track, AND on the street, gasp!), did a 100' dash competition, and generally had a blast. I was proud of the car, and the fact that I had done almost all the work on it myself learning as I went. Not bad for a twenty something year old, I thought.
Here's a couple random pics from those years.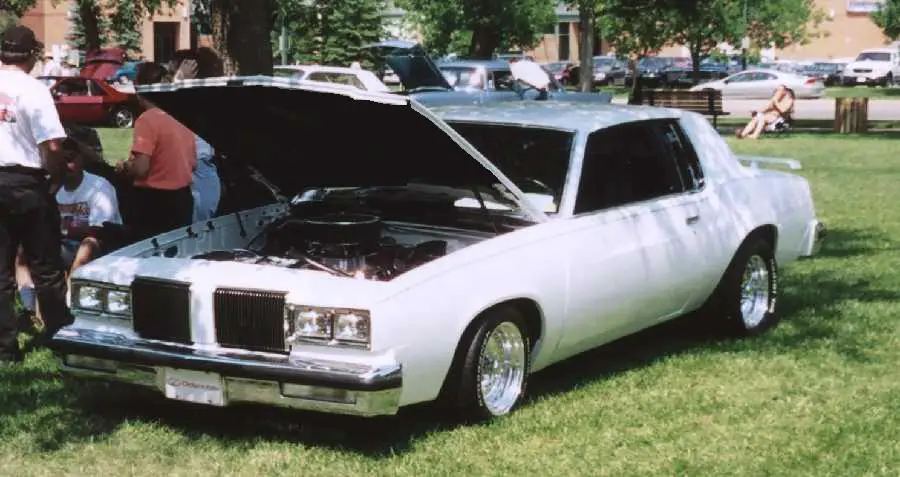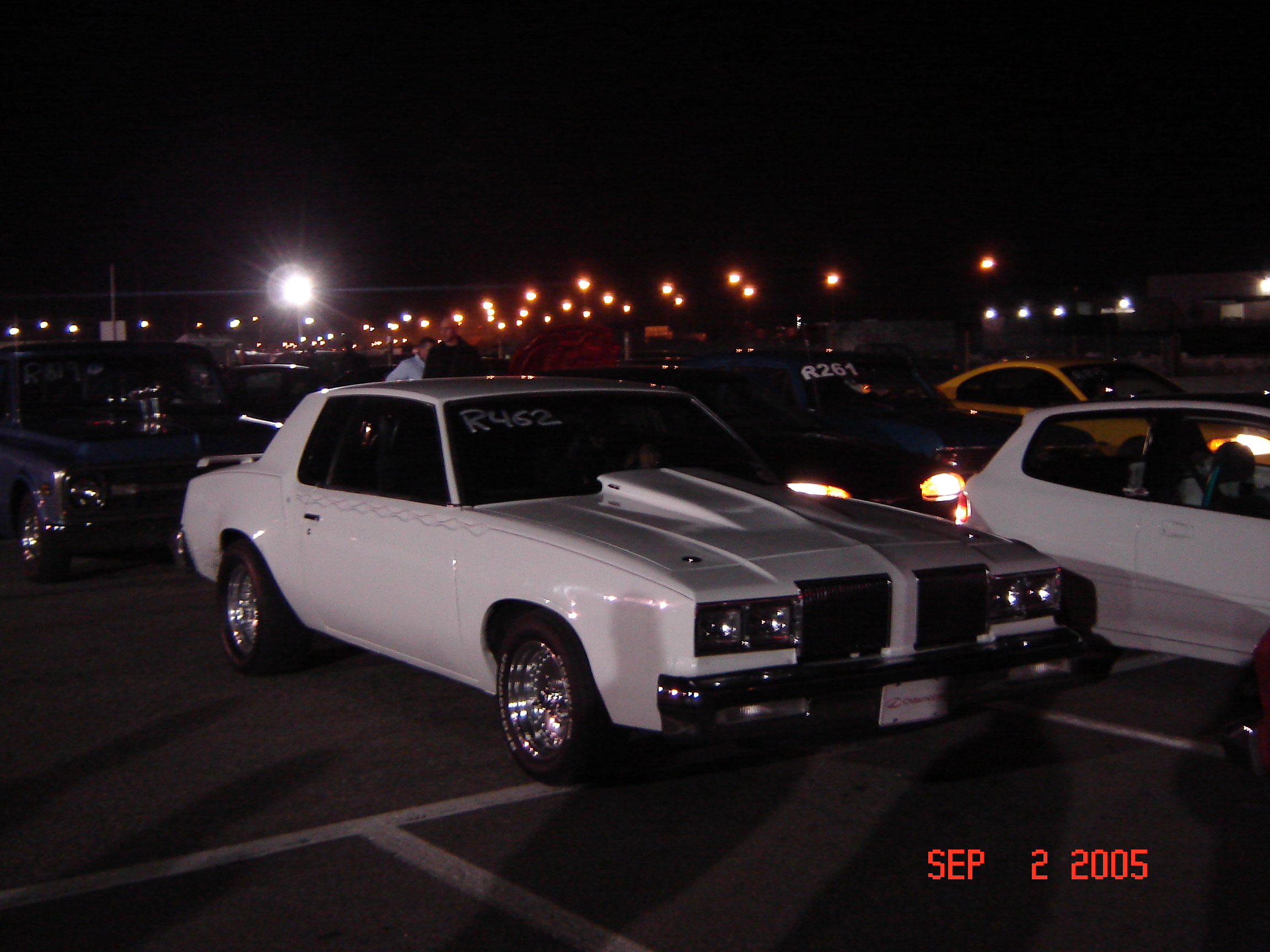 Fast forward to 2008...
I had attended a car show with the Cutlass, and after walking around and observing the quality of cars in attendance, I returned and began looking closely at my car. There were SO many things I wasn't personally happy with on the car, and my own skill level had advanced so much (keep in mind a good portion of it was built by a twenty year old) that I was no longer content with the car. Dejected, I drove home and parked the car for the rest of the summer. Come that fall, it was time to take things to the next level, and pull out all the stops, with the emphasis on again doing as much as I could myself, and challenging my skill set.
Originally, the build style of the car was a street brawler; something that was street legal, but I could race at the track and go fast in a straight line. This was fine, as long as you didn't want to go anywhere on the highway, crawling along at 50 MPH in the slow lane 'cause the 4500 rpm stall converter had the engine revved out at stupid rpm and watching the temp gauge climb the whole time! Not fun. This time, things were going to be different...
I felt it was time to build my vision of the ultimate G body, a full tilt, balls to the wall, heavily modded Pro-Touring beast. The more wild I could dream it, the better. But it had to do one thing above all else:
BE FUNCTIONAL, and BE VERSATILE!!
With that in mind, I set out to build as many adjustable features into the car as possible. Everything, from ride height, to brake bias, to shock valving, to the exhaust sound was to be adjustable. That way, it didn't matter what struck my fancy on a particular day, I would be able to go out and do it. Wanna go drag racing? Cool, lets preload the passenger side rear airbag, loosen up the shocks, throw some stickeys on the back, and go have fun. Wanna go autocrossing? Sweet, lets change the setup on the suspension, and have at 'er. Wanna drive cross country? Throw it into double overdrive 6th on the stick shift, and... well, you get the point.
So, with that mindset, the transformation was to begin. Enough with the history, lets get onto the good stuff...!!!
THE ENGINE
Oldsmobile 455
1976 block
0.30" overbore, balanced and blueprinted, line honed, internal surfaces dry film coated
CRANKSHAFT
Stock cast, mains and journals turned 0.10" 0.10", polished, chamfered, and nitrided
RODS
Stock, balanced and polished, with the small ends resized to fit lighter BBC wrist pins
BEARINGS
Clevite 77. Mondello neoprene rear main seal upgrade. Mondello oil galley restrictors.
PISTONS
TRW, Forged Aluminum, 9.8:1 compression for pump gas
HEADS
1972
Delta 88
455 "Ga" casting pre-emission. Extensively ported, center dividers welded and machined. Opened up for oversize W30 valves, milled 0.10" to increase compression ratio
VALVETRAIN
Comp cams roller tip rockers, Comp valve springs, 0.100" longer 3/8" pushrods, Engle/Mondello camshaft 0.512 / 0.520" lift, oversize W30 valves, hardened valve seats, performance 3 angle grind
TIMING CHAIN
Cloyes Tru-roller
OILING SYSTEM
Moroso 7qt oil pan dry film coated inside, ceramic coated outside, Mondello windage tray, Melling high volume oil pump
INTAKE
Edelbrock Performer 2151 Dual Plane, port matched, plenum divider notched, smoothed, extra water ports welded up, ceramic coated. Mondello heat riser block-off plates, Mondello lifter valley tray
CARBURETOR
Holley 750 HP Double pumper, Aeromotive Fuel pressure regulator
DISTRIBUTOR/IGNITION
MSD Pro billet distributor, MSD 6AL ignition box and Blaster 2 coil, MSD 8.5mm plug wires, NGK V groove plugs
EXHAUST
Hooker Headers G Body 455 Olds swap specific. Ceramic coated. 1 7/8" Primaries, 3 1/2" collectors, 2 pc design, #7 & #8 cylinder tubes wrap around framerails and tuck back into collector. More info on the rest of the exhaust system to be covered later.
MISC
Meziere HD electric water pump, polished.
Polished O-ring swivel thermostat housing
Rare '74 only "Oldsmobile" embossed valve covers, chromed
Custom smoothed block and heads
Base/clear Viper blue metallic paint
Custom cut down front cover and oil fill tube eliminated
Custom owner-designed one of one low mount alternator and power steering mounting brackets with integrated timing tab for use with the electric water pump
Powermaster 200 amp alternator, chrome
Powermaster Hi-torque mini starter
Custom owner-fabricated and polished stainless steel tubes for gauge functions and to hide wiring in (fan temp switch, temp gauge, etc)
Custom owner-fabricated aluminum block that mounts to back of head to clamp the tubes
Custom owner-fabricated stainless steel fuel lines
Crankcase evacuation system
and probably lots more I can't think of at the moment...
A few engine pics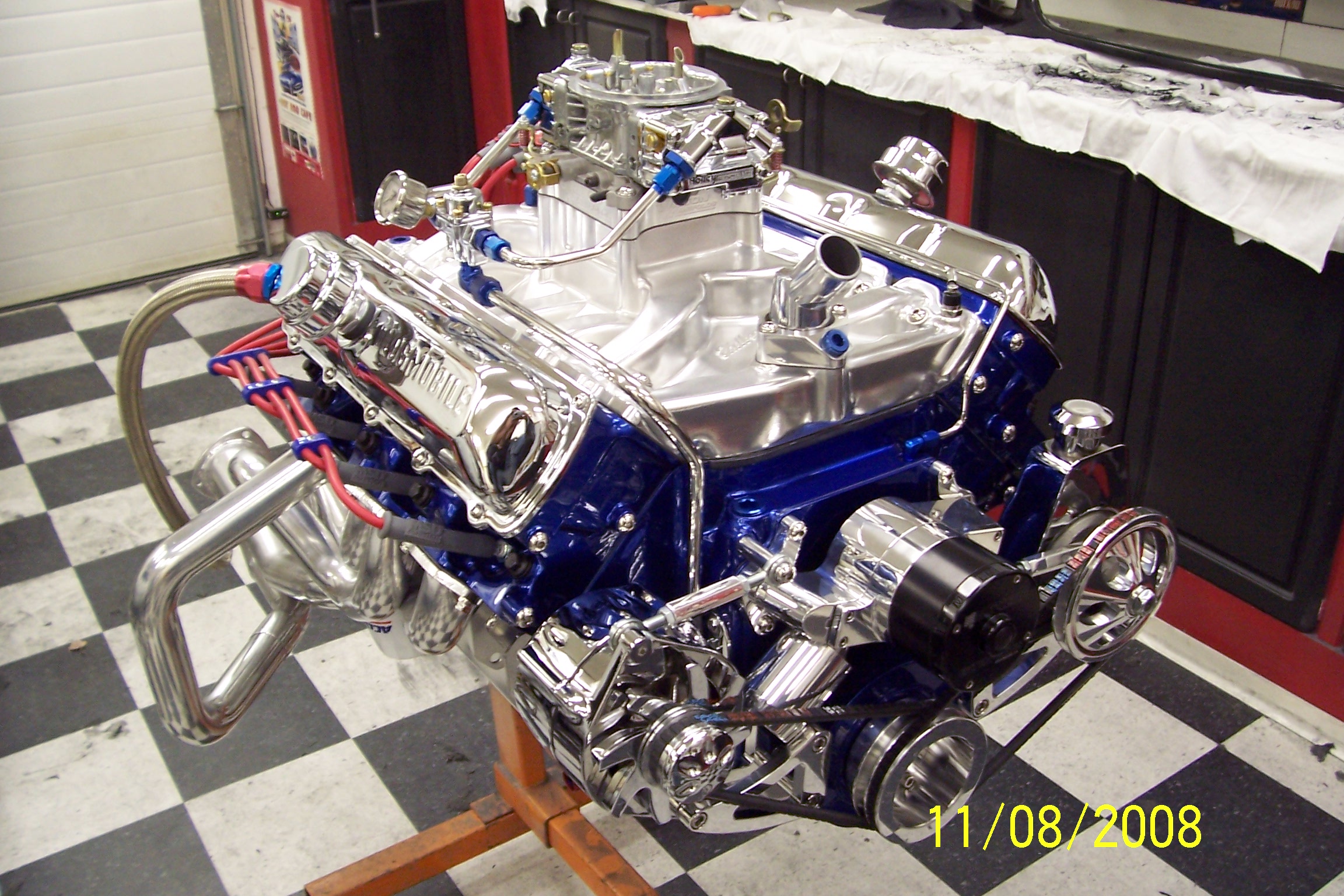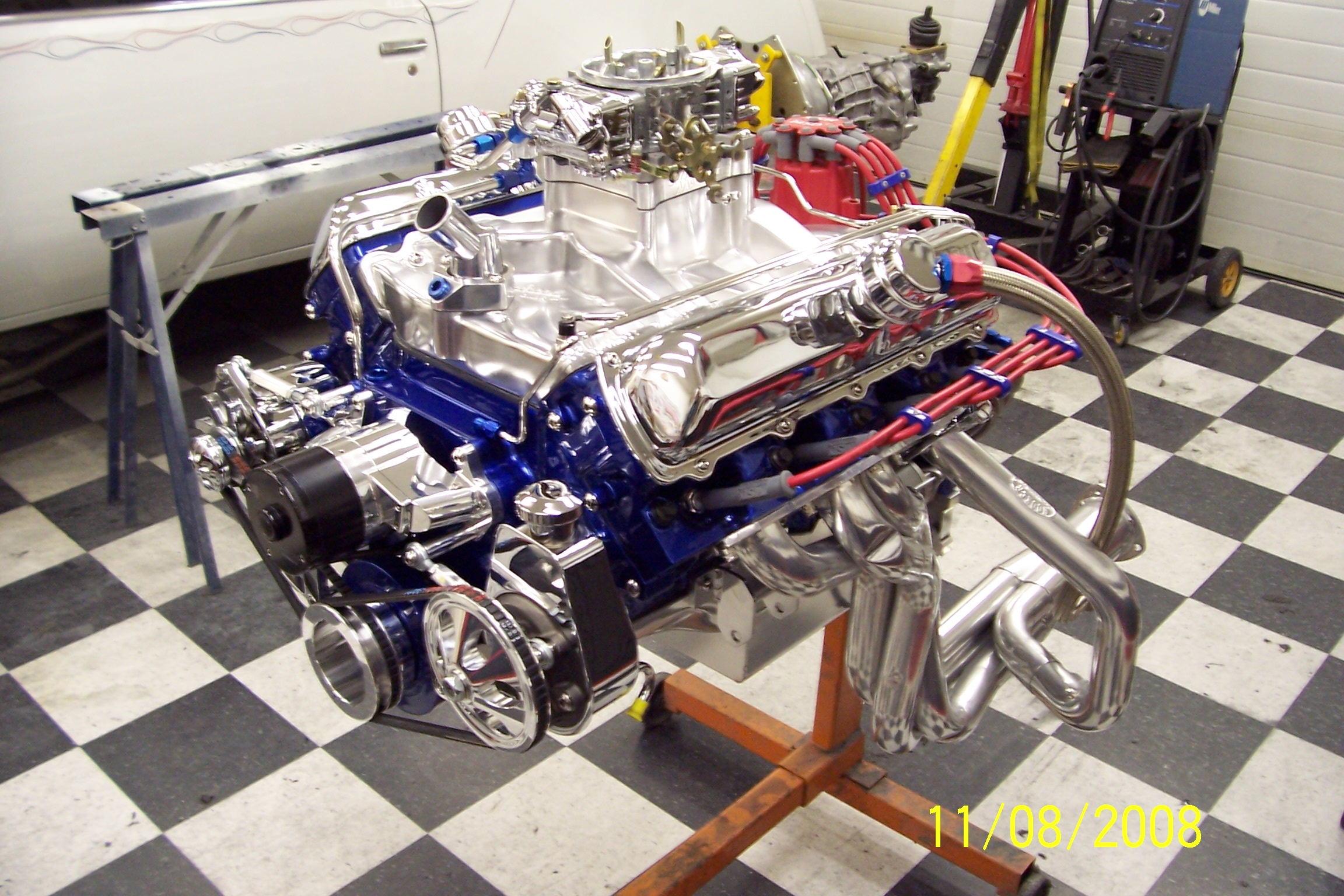 View attachment 38324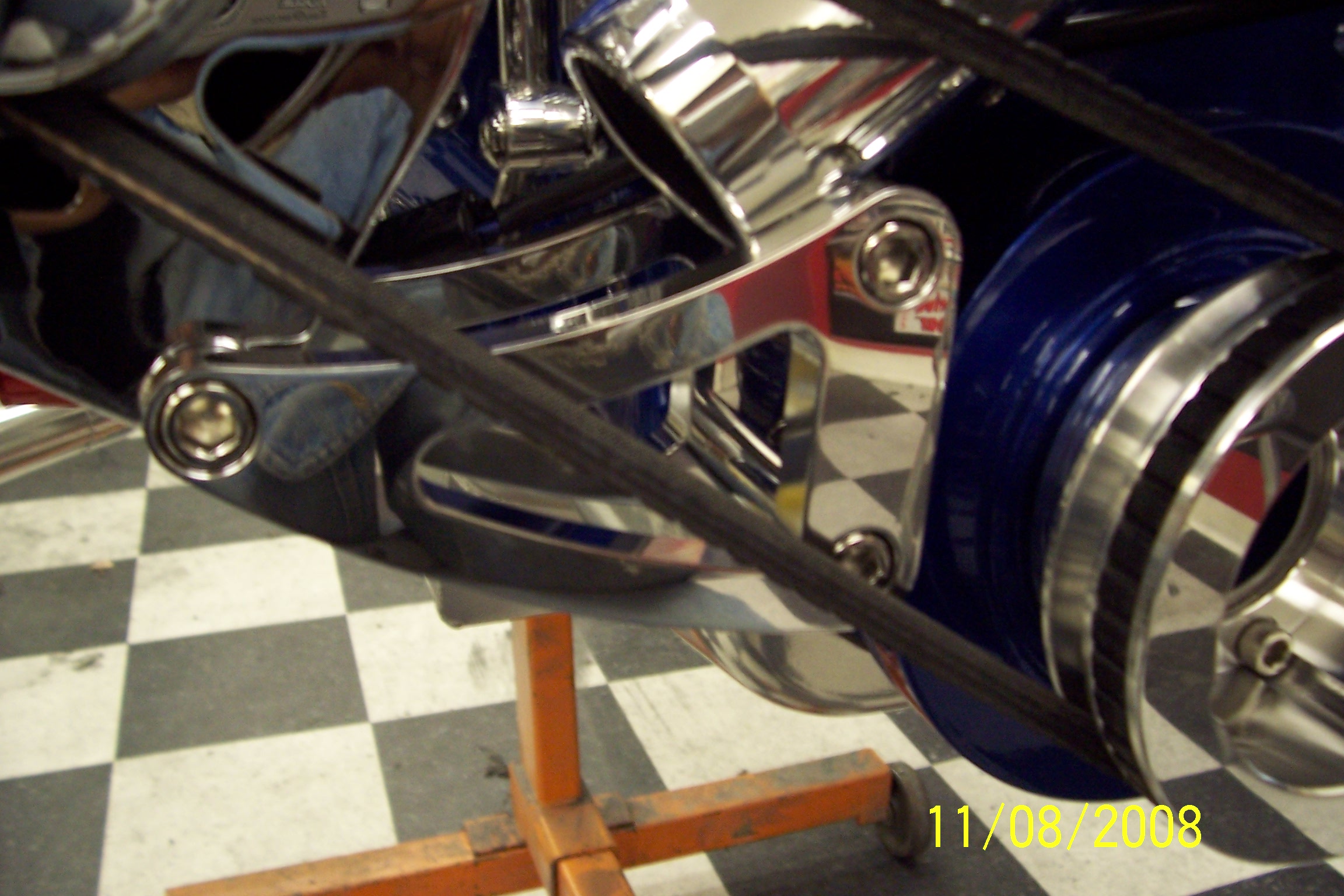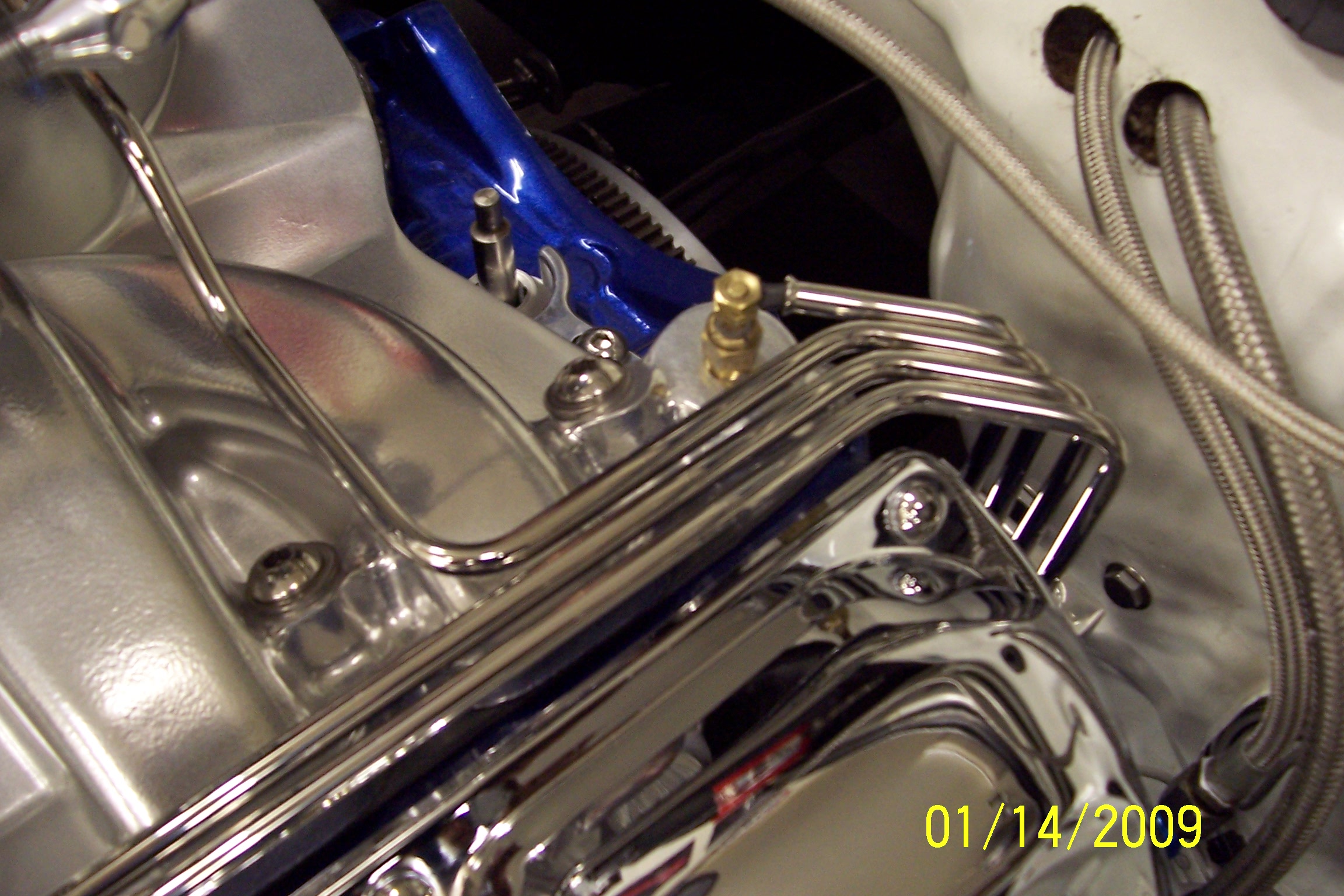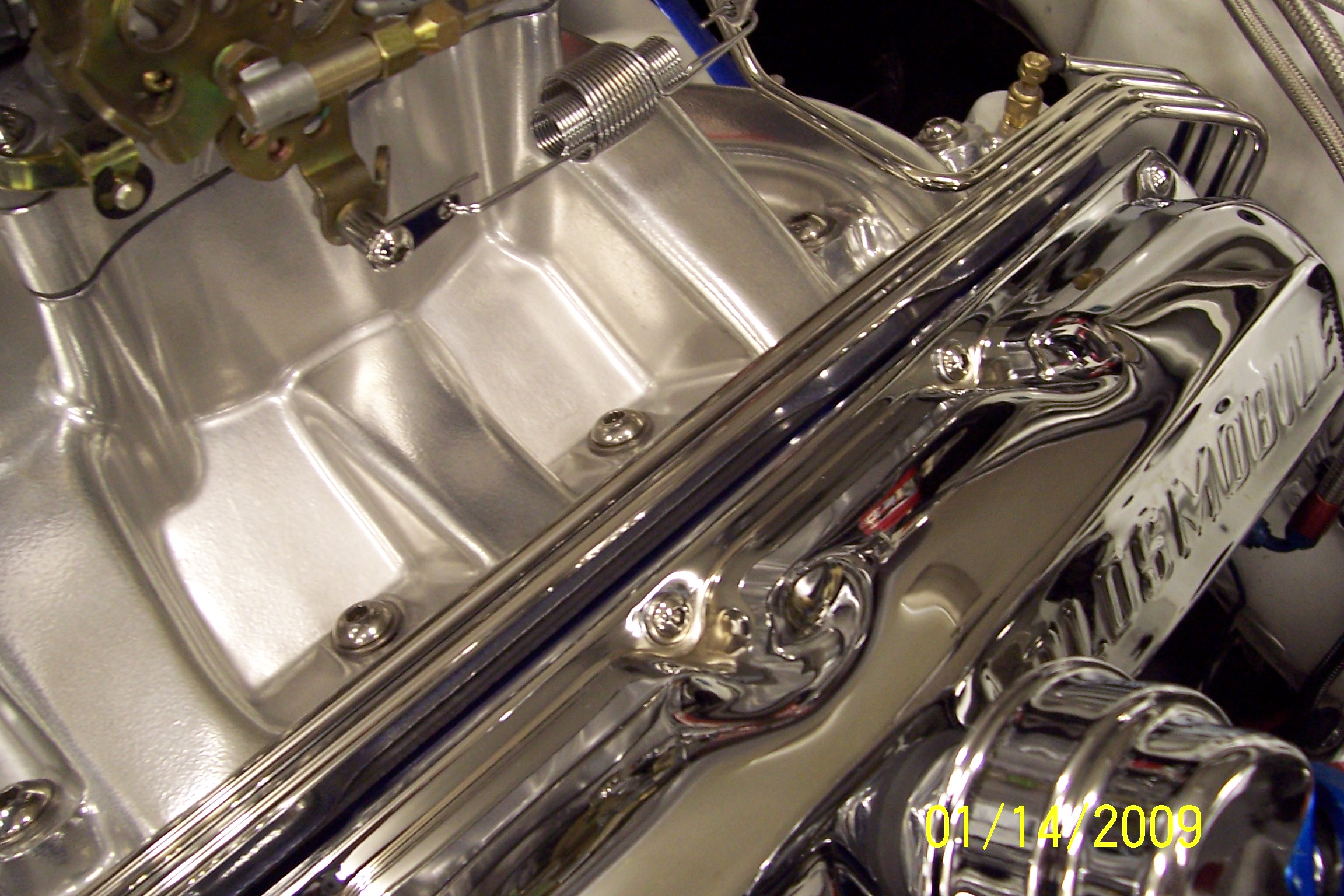 Ok, that pretty much covers the engine. If there's any questions, feel free to ask.
I'm going to let you decide what topic you'd like to see covered next. The choices are (for now):
1) Suspension
2) Side exit exhaust
3) Frame (boxing, welding up holes, gussetting, etc
4) Air Ride
5) Brakes, wheels and tires
I'm sorry, but I've got to do it this way. I've got SO much ground to cover, so much to explain, and so many pics that I need to narrow the scope down to individual areas, and that's just so I can cover what's already been done, never mind where I'm at now.
So please, feedback from you is what's going to dictate what gets covered next and in what order.
Last edited: