Saw the trucks here spreading in the afternoon yesterday for the heavy rain storm today, and its supposed to stay above freezing even at night for a week. So whatever deicer they lay down is just going to be washed away today which begs the question why? Its wasting salt and fuel for the trucks as well as creating more undue damage to cars, infrastructure, and the environment. We are having a record mild Jan with only rain so far this month. Guess they want all the fresh water to turn brackish lol.
To give them a benefit of the doubt, if the atmospherics were right it could fall as rain (or wet snow) but if the air temp was cold enough not much higher in the air than the ground level then who knows what could happen for freezing rain.
As for the weather itself, our "weather forecaster called for a low of 37 on Monday. Guess what happened while one of the mustangs was outside: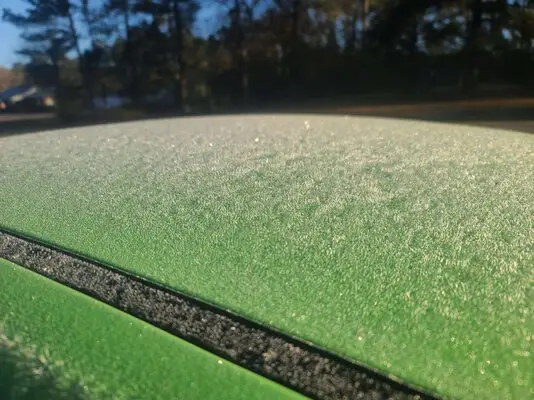 We're not even supposed to have this let alone at the temps they 'forecast'.... so, you have to ask, which side of optics do you go on. Excess salt once in a while when unneeded, or, a policy of not spreading unless it's imminent and absolute and you've got skating rinks out there a couple times?
I'll say this, making those decisions isn't a job I want