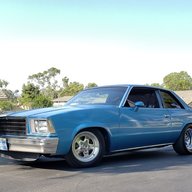 Not-quite-so-new-guy
Thread starter
That's an awesome pair. I really wanted a wagon but I couldn't find one out here for the budget-minded price.
The El Camino is new to me, so there's not much on it. It's an AC car, though it doesn't work great. It accelerates to 60 mph in some 11 seconds or so. GM 10-bolt rear end, no posi. TH-350 3-speed with a 3 on the tree. 305 v8, 4 BBL carb. Completely stock specs. C.A.R.B. compliant, no less. So far what I've got ordered are a fresh set of gaskets for the engine, as I plan to keep it for now. 3-Row aluminum radiator, dual electric fans, fan shroud, water pump, 160° thermostat, Summit cam and lifters set, and I'll be migrating my Holley 670 CFM carb onto it. Other than that, I'll be leaving it alone. I have my old set of long tube Hookers that I'd like to install, but that'll prevent me from passing a visual smog inspection on it here in Cali.
As for the Malibu, there's a lot to it. It's got a Currie Ford 9" rear end with disk brakes, posi, and 4:11 gears. The trans is a TCI TH-400, with a 3200 converter. Engine is a 350 with a Howard's mechanical flat tappet cam(pretty wild one at that). It's got a set of scorpion heads with Summit 4.6 roller rockers. The intake is a Weiand Team-G high rise, single plane manifold. The headers are Hooker 1 3/4" Super Competition headers with a ceramic coating. All of this is being asphyxiated through the Holley 670 carb I have sitting on top. The Malibu is also running an aluminum radiator, dual electric fan setup. You can imagine with the gearing, trans, and converter, this thing does not perform very well on a cruise. I've got Flowmaster Super 10's that dump out before the rear axle, so it's also a little bit loud. This one is registered in Nevada, so I don't really have any smog concerns.
Sorry for writing a book