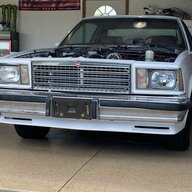 Not-quite-so-new-guy
Thread starter
I started watching your build and realized I live right down the road from you in Midland. I'm also a lurker here, this is my first post. I have almost the exact same car, only in blue. Got the car a year ago, a barn find too, and I'm almost done.
I did:
2004 5.3
4L60E
Quick Performance 9" with 3.70
UMI suspension all the way around
Lowering springs (front coils, worst job in the world)
All new fuel system
Disc brakes
All Holley swap stuff
PST drive shaft
16 inch Torq Thrust wheels
I still have to do the exhaust, the cooling fans, and the intake. Oh, and i need to flip the front sway bar that my son and I put on upside down. Got it running two weeks ago, but I stalled (my project, that is) when I ran out of ready cash. So close!
I also have some surface rust, clean interior, and a couple of rust holes in the floor pans. I think our cars were separated at birth! I'm excited to watch your progress!
Rob
It certainly does sound like a couple local cars that meet the same fate but are on their way to restored glory.
I have a decent size break from work coming up during the holidays so the plan is to try and get it mobile during that time. Its a compressed timeline but hopefully.
I hope to pick up an 8.5 locally if I can convince the guys at one of the yards around here to let one go for a decent price. Picked up a set of 15" Iroc wheels when I got the monte wheels that are in really decent shape. Plan to run those for a while or until a nice set of 18 or 20" Irocs pop up for a decent price. I also grabbed some UMI front upper and lowers, Hotchkis springs, and working a deal on an HR parts and Stuff rear suspension setup with their sway bar and a Spohn front bar.
You should post up a build thread if you have pictures with your progress. I am sure we will run into each other this coming summer or at least pass on US10!