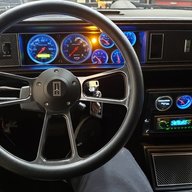 Nov 24, 2014
2,824
4,415
113
That's kind of puzzling to me that a brass sleeve would have less friction than needle bearings......
The main issue is the needle bearings can only stand so much valve pressure and rpm's before grenading, sending needle bearings through the engine in a hurry!
The bushings don't have that issue, and have been shown reliable in high hp, high rpm applications.
I used the same kit on my LS rockers and they rotate so smooth and with no limit.
2

2