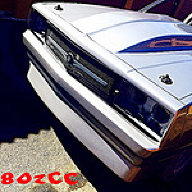 Jun 17, 2008
1,643
111
48
ALL MY PICS WERE LOST. ILL BE UPDATING THE BROKEN LINKS SOON. NEW PIC UPDATES ON THE OLD GUY ARE ON THE LAST PAGE

I tried fixing all the broken links thru my flickr account, but no luck. Ill be updating a few post at a time each day until im caught up
Here's some pics and vid of my 87 Monte SS. Its been a nightmare with this car, but Im hangin in there with it. Everything is brand spankin new but 4.5 years old now. Been goin thru it with these bs shops. Me and my crew got it covered now. the motor and trans only have 100-150 or so miles on it. Trans was setup wrong and now its slipping like crazy. Taking it to Bowite Overdrives and to see what they can do for me. I'll add pics as I go along..
Parts list
Fresh H.O DELUXE CRATE 350 from Summit Racing.
B&M 700r4 trans with deeper aluminum pan
700r4 Crossmember
Race ready driveshaft loop
B&M 2400 Holeshot stall converter
B&M super trans cooler
B&M's TV cable and lock/unlock setup .
Edelbrock Intake in Endurashine
Edelbrock Fuel pump(chrome)
Moog front replace springs
Belltech Nitro Drop Shocks(frnt/rear)
Belltech rear 1" drop Springs
Belltech front 2" Drop Spindles
Hotchkis Front and rear swaybar setup
Braided trans lines
Doug's ceramic coated Headers
Ball Milled valve Covers(polished)
Ball Milled Breathers(polished)
Billet Specialties Ball milled Spark plug wire holders(polished)
Billet Specialties Radiator cap(polished)
Dakota Digital Digital Gauges :
A) Instrument Panel(Speedo )
B) Exhaust Gas Temp
C) Fuel Pressure
D) Audio Amplifier Current
E) Subwoofer Amp Temp
F) Trans Temp (cooled temp readout)
G) Oil Temp (cooled temp readout)
H4 Lighting with beefier wiring panel(Summit Racing)
Custom Sprectre Intake with dual filters
Complete Sound Setup from JL Audio And Infinity Audio
Car had a rebuilt 350 in it when I purchased it. Cam lobe wore flat and all kinds of crazy stuff started. Snatched the 350 out and started with the degrease and detailing of the bay area.
CLEAN.. Used "Purple Power" straight to degrease the bay...
Started tapin him off for some rustolium hi temp black..
Motor setup..GM Performance H.O. Deluxe 350 crate. Turnkey setup with GMP's serpentine...Wanted the March setup but ran out of cash. The GM setup was $700. Alot better than $2500:wink:
Here it is after I had the Edelbrock intake(endurashine) slapped on. I also had an Edelbrock water pump which has been swapped to a reverse rotation setup with the serpentine..Billet Specialties short valve covers, breather and pcv valve in bal milled. Ive since swapped to the tall balled milled valve covers..
Milodon (sp?) deep oil pan, windage tray, pickup and high flow oil pump...What a headache that was...
Mounted.
How he sits now...
Before intake...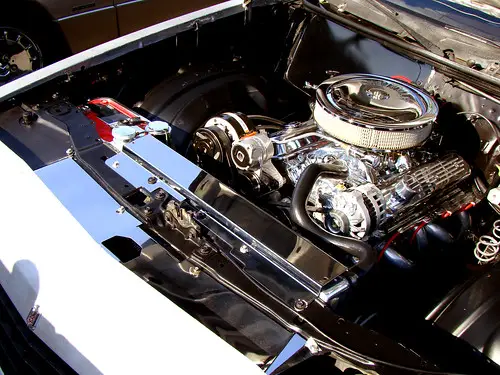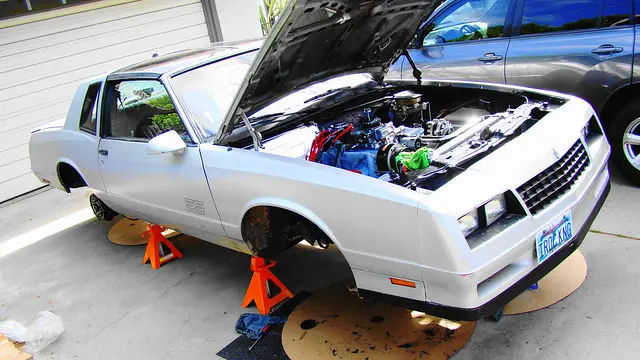 Still got a looooong way to go. Having major tranny probs right now. Old shop really dropped the ball on the trans setup. Of course they blamed the first shop. Cut my losses and took him hom. Car wont go in drive now. Trans is slipping like crazy. No reverse. Gotta rev it to 5000 rpm bfore it will move in reverse. NOW its doin it in drive. Taking it to Bowtie Overdrives to see whats goin on. I may just snatch the B&M out and drop in a Bowtie stage 2 700 and fix the B&M later(drop that in my El) Thanks for lookin......
Warren
Last edited:
1