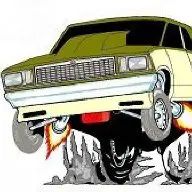 TURNA
Rocket Powered Basset Hound
Warning: Just leave your stock factory G body brake hose brackets installed. The Blazer brackets contacted my 15" wheels at close to full steering lock! I re-installed the G Body Brackets and problem solved!
I think you are the only one that ever had that issue.
What is your wheel backspace?