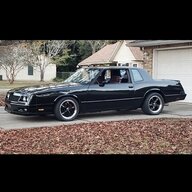 Jun 15, 2012
5,009
8,373
113
Was that in this thread?

Or this one:

Well for starters, I pulled my lifters and have verified elsewhere that they are shot/worn. I'm told if the lifters look that way, the camshaft is more than likely worn too. Here is a video I shot of the inspection process... I'm told that it isn't worth saving the 305 H.O. and to just swap...

gbodyforum.com
The latter, good call. Post #40. That one was a good read.
I don't have a mechanic, I am my mechanic. A couple of guys have shown me 350 Vortec engines locally... The 305 motor I have right now would need to run long enough for me to get money to buy the engine, an engine stand, rebuild parts, and eventually an engine hoist... Not to mention I can't just pull a motor in an apartment complex parking lot so I'll have to find space and time for me to be in that space to complete the job.
This one here tho.... this is my favorite of all..
Got kicked out of and blocked from most of those FB groups... which is why you haven't seen any FB questions and more here.
Admins don't like group members talking back when they're wrong...plenty of times I was given the wrong info... I know who is giving me good info and bad info, I have my favorites and still keep in touch with them this very day...even a local.

Admins in those FB groups can be very controlling...