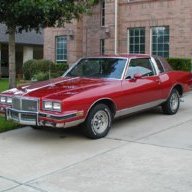 Texas82GP
Geezer
Supporting Member
#$&@#$% That sucks. I have cameras/DVR set up at the house and while they aren't the greatest they're visible and are probably more deterrent than anything.

We got one of these for my kid's house (the pan/zoom one, inside). Definitely worth the $$. You can get outdoor housings for them but they're only 5V USB powered and you still have to run that wire somehow, and make sure they get wifi. IIRC you can set it up to notify you and it has 2-way audio....

https://www.amazon.com/dp/B07DGR98VQ/?tag=gbody-20 https://www.amazon.com/dp/B076H3SRXG/?tag=gbody-20

We got her a "ring" doorbell/security system but that was much more $$ (for better service.) It's nice to get a "ding" and be able to see and talk to whoever is in front of the camera though.

sh*t just set up a dummy camera with fake IR lights and that'd probably be enough.

[email protected]

$%ing Oklahoma.
It's not just Oklahoma. I've had S#%$birds try to steal the wheels off my truck twice, in my driveway, on camera, while I slumbered. I have two sets of locks on which eclipses their desired effort level. Little bast#@$% still stole my center caps the first time.