81cutlass
Royal Smart Person
LS1 front brakes on a G body is a pretty common upgrade. I have about 2k miles on my mostly homebuilt setup. Has been sucessful and thought I would do a how to with all the info in one place.
I wanted to go with a blazer setup but I priced it out and in dirt car territory, I couldn't justify it. It was cheaper to go with the stock spindle and 4th gen stuff. If you are anywhere where dirt cars are running up north where 2wd's rarely sold, it is tough to find the parts. Could have bought spindles from someone down south, but $200 there, $200 for wheel bearings, getting calipers and rotors, it added up. I figured $500ish by the time I was done.
Looked into C5 fronts but I want to still run 15" skinnies up front for drag use. Many 4th gen people do it and you can either a) grind the caliper or b) run a 1" spacer and steel wheel. I have heard reports of monte SS or T type aluminum 15" wheels fitting over LS1 front rotors. It's not the wheel "barrel" that hits the caliper, it's the wheel center (for me at least with a 15x6 pontiac ralley) that lightly rubbed the caliper face.
General big brake info thats awesome
https://lukeskaff.com/projects/car/third-gen-f-body-brake-upgrade/upgrade-options-and-measurements/
On to the project!
Flynbye sells this kit for about $1000. Can be done for under $500 and if you are super cheap and have tools $150 is no problem.
Need tools of course
M8x1.25 Tap
Grinder
Saw
Drill and bits
Beer or beverage of choice
Vise or press for studs
Caliper
Square
Center punch
File
Basic hand tools
I'm sure there's more but all normal stuff.
What I used for parts. I am missing brake line parts for the alternate line since mine came with the calipers.
Add $10-$50 for brake pads too. I got lucky again with the calipers I bought and they had virtually new pads in them. That is another benefit to the 4th gen caliper, good quality sticky pads are available at larger variety than the blazer stuff.
You are looking total at $120ish for the cheap way and about about $430 for the mostly everything new purchased route. Pretty comparable to the blazer setup cost with a gain of 1" on the rotor diameter if you get everything new for both.
Started with pressing studs out of stock rotors. Thread stock lug onto stud to prevent damage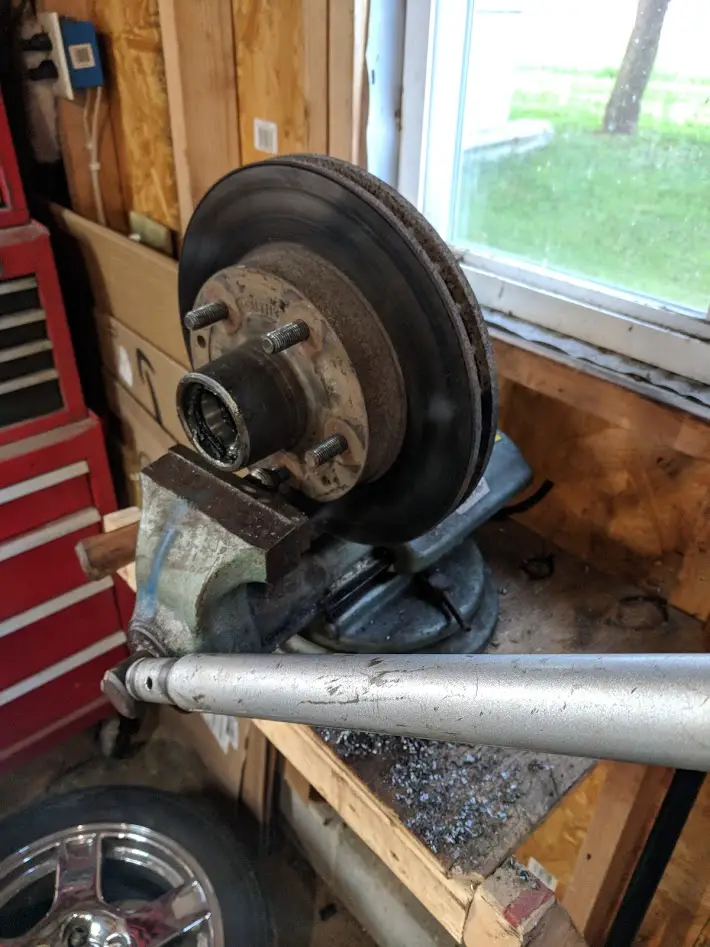 Drill and tap dust shield bolts for M10 bolts.
Sawzall the factory ears off
If you have a lathe (I do) or a friend, cut the rotor off the hub! Turn OD to 5.87" for the LS rotors
https://lukeskaff.com/projects/car/third-gen-f-body-brake-upgrade/hub-fabrication/
Install studs. Don't crank on them super tight! I had a hairline crack in the one I took an impact to. Use a ratchet or breaker bar and stop when it gets seated. People say to drill the hole out, I wouldn't. It's the difference between a cast and steel hub and ductility. The cast is strong but just breaks easily with vibration and impact. I did the other 9 by hand and no cracks.
Brackets! If you want to save a bit here, use this drawing and some 3/8x2 flat bar. Don't drill both holes out to 1/2". Do the M10 holes to 3/8" or so. 1/2 is sloppy
I found out, ignore most of the curves in the drawing. Cut triangle out like my photo, notch corner, it fits. Make them mirror image and it works. I also grounded the rear here and there to clear the spindle and leave as much material on the stock spindle as I can.
Last edited: