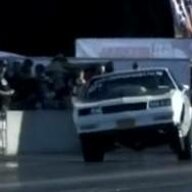 Goat Herder
Supporting Member
Dec 1, 2014
5,530
1
11,705
113
Car will not be a daily driver, something that I can take out every so often for a cruise and be able to take it to the track and have some fun in.
This describes a 3 speed, i.e. TH350 or TH400. If track times are a concern then a TH350 that is well built only due to weight and that you probably won't be exceeding 500hp with your 383.
Converter and gears are dependent on tire size and power band of the motor.