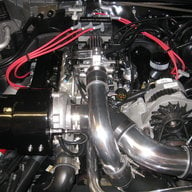 Jun 6, 2014
1,855
5,506
113
I hope you mean Bernard Mondello.
Trust me; get the crank bored. I tried the conversion bearing, once. it's got to be right, or it will wipe the thrust bearing out. Bye, bye oil pressure! That ain't no fun.
I don't mind getting the crank drilled, it will be out anyway... but I did find this from Dick Miller Racing.
DMR-5022 Stick shift pilot bearing adapter. A new solution to an old problem. Convert a GM automatic transmission crankshaft to a manual shift crank without taking the crank out of the block. Knurled for a sure fit with self alignment for a perfect fit and smooth running and shifting. Requires modest shortening of input shaft with common tools. Also for engines that are using a midplate resulting in the transmission being moved rearward and not engaging the stock pilot bearing far enough. Fits Oldsmobile 260-455, Buick 350-455, Cadillac 400-500, Pontiac 326-455, and Chevrolet 305-502
* Tech tip says to use Red Loctite when installing.