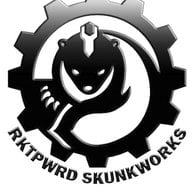 Comic Book Super Hero
Supporting Member
Rktpwrd

do you care to comment, since you are an expert on bodywork and on the 80 Cutlass?
There's not really much for me to contribute at this point as it's been pretty well addressed at this point. (Late to the party as usual)
The suggestions as made by
Ribbedroof
and
abbey castro
have it covered and right. The substance you're encountering is in fact the factory seam sealer. If the plan is to re-spot weld in this area, I like to protect the surfaces with a quality epoxy primer first, then pre punch the holes in the new panel where the spot welds are to be placed.
You will not be able to weld to the inner panel with the epoxy in those particular spots, so once I figure out where the new panel is going to sit, I mark through the punched spot weld holes, and remove the epoxy from those areas. Position, clamp, weld, and grind flush. Then lay in a nice even bead of a QUALITY 2 part seam sealer ensuring good coverage. I know the area in question, and know that it's going to be incredibly difficult to do, but it is what it is.
Where there's a will, there is a way.
You just have to find it.