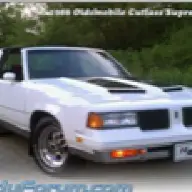 88hurstolds
Royal Smart Person
The red anti-dieseling solenoid plug is on all 86-88 VINY and VIN9 harnesses, GM used the same harness.
LS swap sounds easy but it's not cheap, you have to rip out the fuel system, wiring, new motor mounts, special pan, headers etc. It adds up quickly... anyone tells you that you can do it for under a few grand is lying or performed a hack job.
Building any engine CORRECTLY will cost you $6k-$10k...
I have $10k into this 430hp/475ft-lb Olds 403 as it sits: