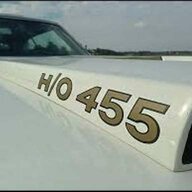 69hurstolds
Comic Book Super Hero
Supporting Member
If it's overcharged, it won't cool as well as a correct charge. That "leaky gage" might have released some 134 and in doing so might have got you closer to a proper charge which begets colder vent temps, if it actually is overcharged.

I hate remote diagnostics. Can't see it can't do much with it. I suspect it was overcharged. Depending on outside temps, you should run around 25-30 ish on the low side and likely 150-200 ish on the high side. But again, outside temperature conditions make a difference. The hotter it is, the higher pressures.

If you have 35 psi on the low side, that may (emphasize MAY) be ok. IIRC, 45 is the upper limit of "normal". But if you were at 60 that's way too much. Try revving the engine to around 2000-2500 rpm and hold it and see if the compressor cycles. It may take a slight bit to see it doing it, but if it's properly charged it might. The main key is that there's no moisture in the system. That really can wreck your system trying to get it to cool right.